Top 7 Must have Magento 2 Extensions for your product page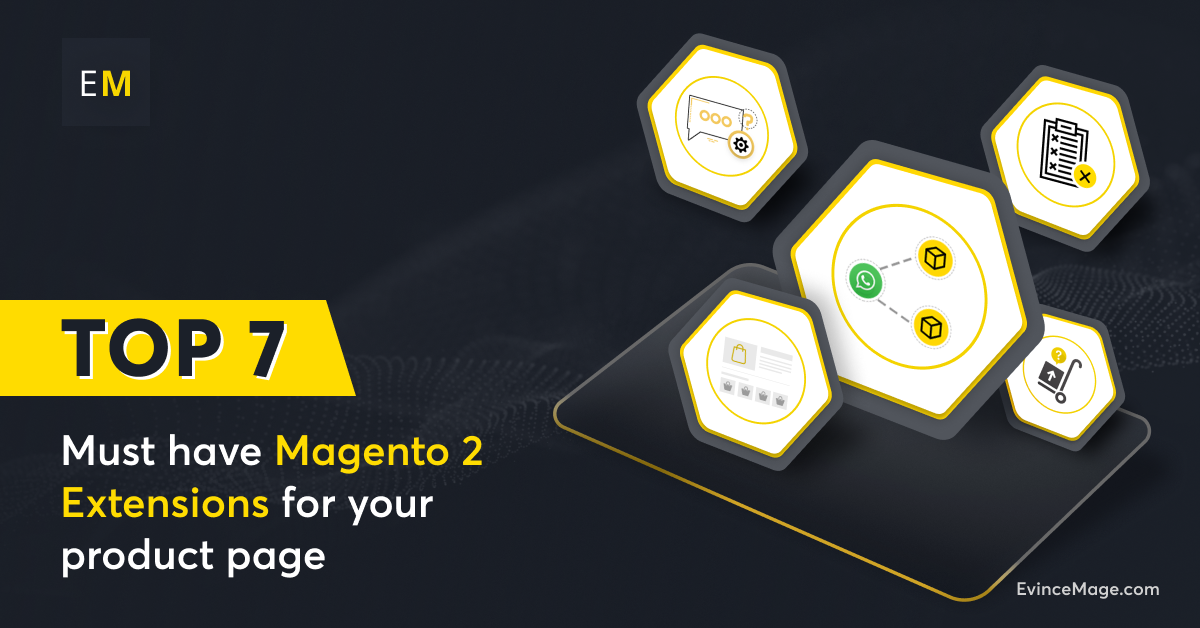 Magento is one of the most powerful eCommerce tools, and it has quickly become the most reliable and trustworthy platform for businesses of all sizes. As of 2021, Magento powers 0.7% of the internet. 
When we talk about running a successful Magento eCommerce store, online retailers emphasize the importance of extensions. Magento 2 extensions or plugins help enhance the functionality of your website and optimize them for a better customer experience. 
However, choosing the right ones can be overwhelming with thousands of extensions available in the Magento Marketplace. If you install too many plugins, it will hurt your store's performance. 
To make things easier for you, we've handpicked a list of 7 must-have Magento extensions for eCommerce. These extensions can help enhance customer experience and boost your sales, and we will also discuss the importance of extensions for your store. 
Let's get started!
Importance of Magento 2 Extensions
Customizing your Magento ecommerce store can be challenging, especially if you don't have coding skills. However, by investing in Magento 2 extensions, you can customize your online store as you wish. 
Magento 2 extensions for product pages allow you to display related products, add social sharing options, FAQs, and offer size charts. These features help customers build confidence in your products and increase the chances of sales.
Here are some more reasons to install Magento 2 plugins:
Saves time as you don't have to learn code or hire a developer to improve your store's functionality. 

Allows you to set your store apart from your competitors and stand out from the crowd. 

Enables you to offer the best possible experience to your customers. 

Encourages social sharing, thereby boosting word-of-mouth marketing. 

Makes it easier to manage product-related inquiries by bringing them all together.
7 Best Magento 2 Plugins for Product Pages

Now that you know why Magento extensions for ecommerce are important, let's look at the 7 plugins that can help enhance your store's functionality. 
1. Extended Product Grid Magento 2 Extension
Manage all your products in one place. 
The 'Extended Product Grid Magento 2 Extension' provides a hassle-free way to manage and update product details. 
You can add products, set thumbnails, upload images, choose categories, and set prices, all from one extension. You can edit multiple products and their attributes in bulk to save time.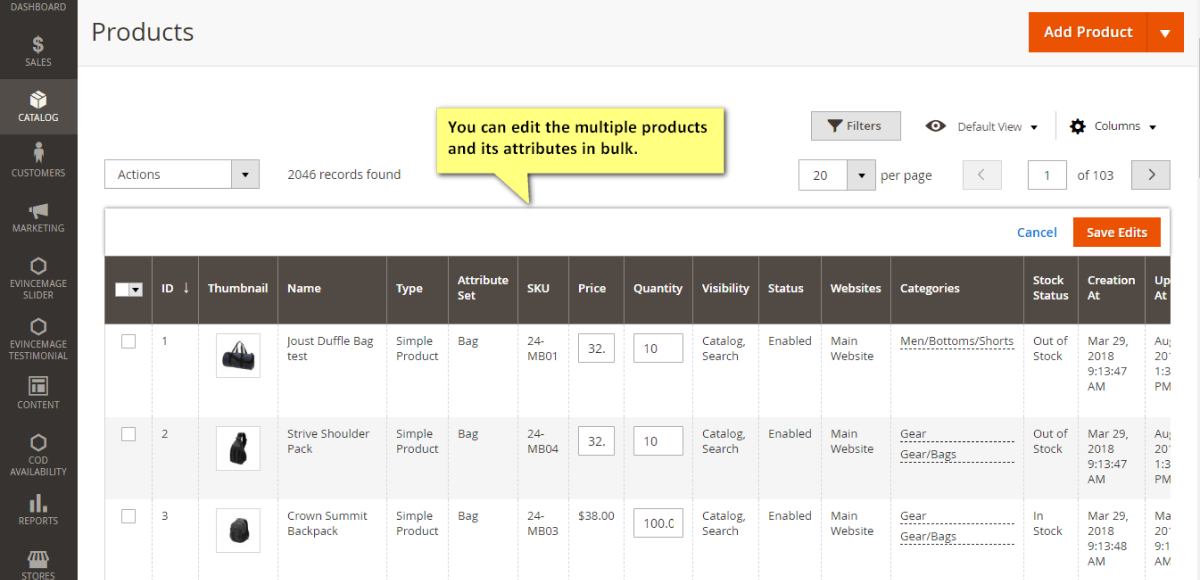 You can also create multiple grids based on categories, price, or type. That will allow you to categorize similar products in the same grid and save time editing their attributes or visibility. It even enables you to check how the product looks on the front end and verify the changes in real-time. It has a 'reset' option that lets you reset the grid to default values in just a click. 

Highlights:

Add images or videos to products

Update product quantity and price

Add or remove additional attributes

Filter products by attributes or categories

Preview your product in the front-end

Change thumbnails and stock status (out of stock or in stock)
2. Auto Related Product Magento 2 Extension
Increase the average order value by displaying related products. 
The 'Auto-Related Product Magento 2 Extension' showcases related products based on the criteria you set, such as price, category, and attributes.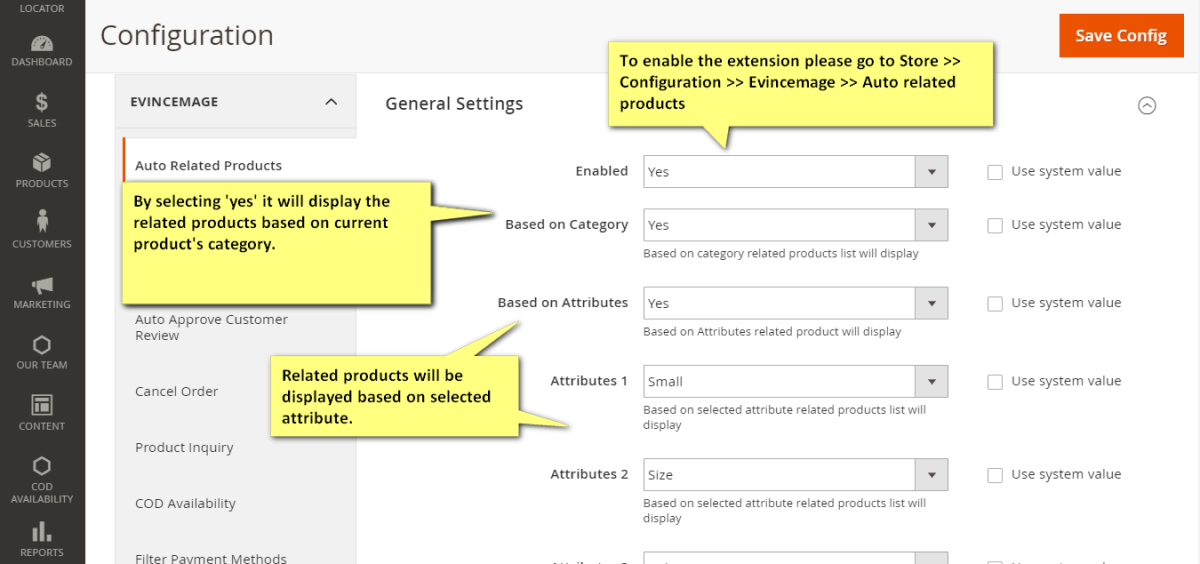 The primary aim of the 'Auto-Related Product Magento 2 Extension' is to increase the average cost per order by cross-selling. It also offers products that customers will need - for instance, a back cover when buying a mobile. 

Once you enable the extension, the related products falling in your set criteria will be shortlisted and displayed in combination with other filters (there are 40+ options to choose from). You can also select the number of related products a customer will see and which order. 
Highlights: 
Display related products

Showcase products based on attributes, price, and categories

Choose multiple attributes to display custom related products

Decide on the order in which order will display the products

Select the number of products to be displayed
3. Size Chart Magento 2 Extension
Instill confidence in shoppers by displaying the size chart. 
The 'Size Chart Magento 2 Extension' allows you to display size charts under each product and answers the most common question, 'how to figure the right dress size for me?'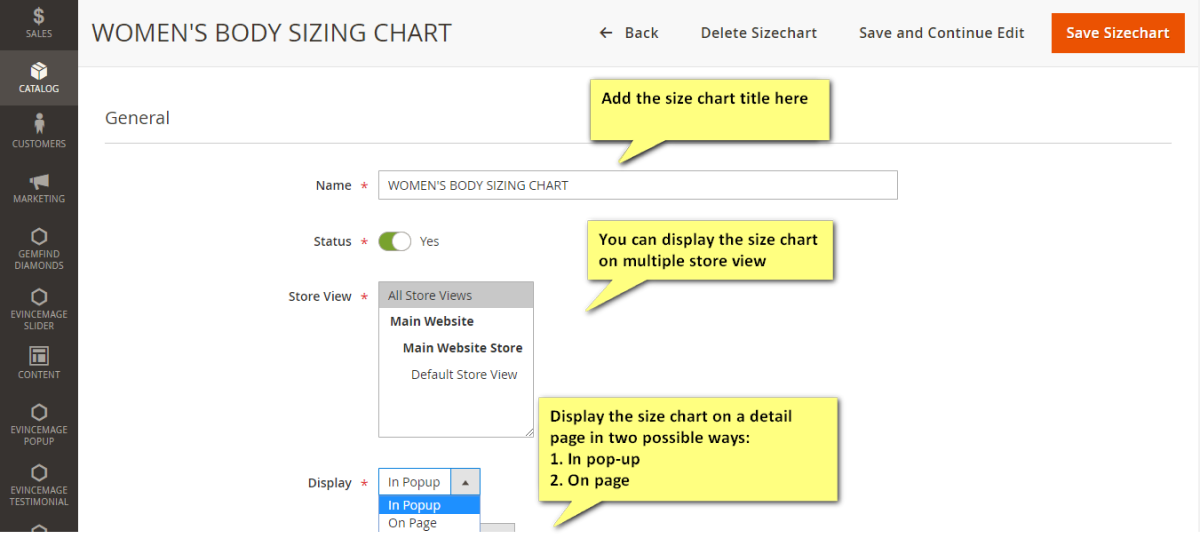 You can create multiple charts for different categories and brands to ensure customers get the right product. It also helps minimize returns and replacements, saving money on back-and-forth shipping. That, in turn, ensures buyers get their desired products on time, thereby improving customer satisfaction. 
You can choose to display the size chart as a pop-up or on-page. The pop-up chart will display a size chart when a customer clicks on the button. On the other hand, on-page size charts will always display the complete size chart on the page.

Highlights: 

Create multiple size charts

Customize button looks

Choose from a pop-up or on-page chart

Allocate size charts per category

Easy to enable/disable
4. Product Inquiry Magento 2 Extension
Clear customers' product-related doubts quickly to boost sales. 
The 'Product Inquiry Magento 2 Extension' allows customers to submit their product-related queries. As soon as they do that, you will receive an email notification so you can address their inquiries quickly.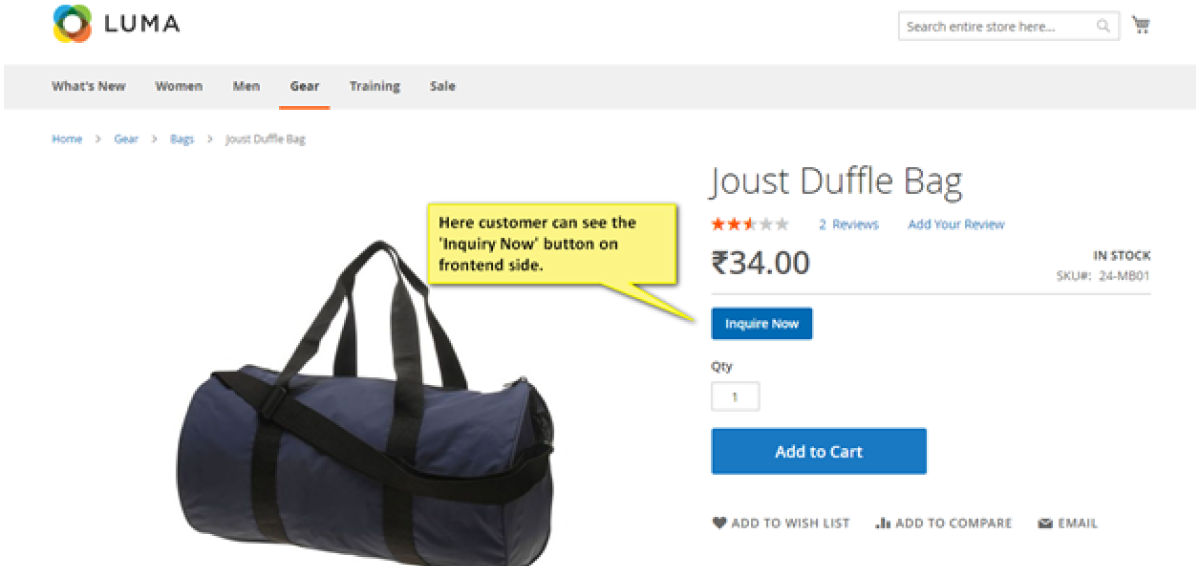 Since the customer doesn't need to sign up or sign in to submit the inquiries, it provides them the much-needed flexibility and improves the overall experience on your site. You can also track all the received inquiries in one place. You can then use the insights to update your FAQs section or product description to provide necessary information to customers beforehand. 
Highlights: 
Allow guest users to submit a product inquiry

Track all the received inquiries in one place

Get email alerts every time a customer submits an inquiry

Filter inquiries by name, date, etc. 

Customized inquiry view

Works with JavaScript, thereby minimizing the server load
5. Cancel Order by Customer Magento 2 Extension
Handling cancellation has never been easier. 
The 'Cancel Order by Customer Magento 2 Extension' streamlines the cancellation process by automating the request; as soon as a customer cancels the order, the extension updates in the backend automatically. However, Anyone can only cancel the order if it has not shipped. 
You can even ask users the reason behind order cancellation. Cancel Order Extension provides a feedback mechanism where users provide input while confirming the cancellation. These will help you improve your products and services.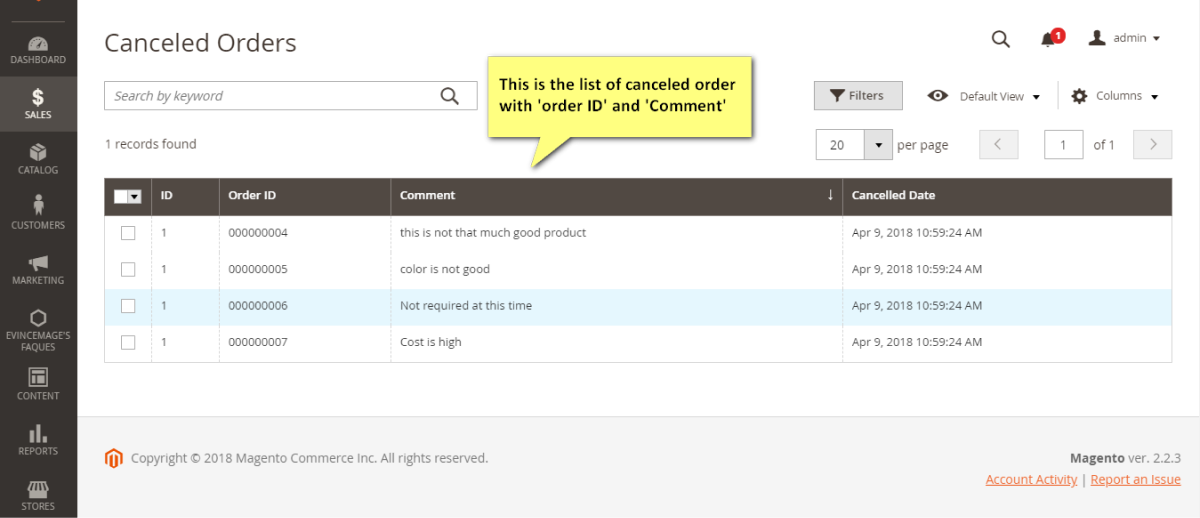 It also has a 'restock products' feature that restocks the product as soon as a customer cancels the order automatically. That saves your time restocking the items in the front end. Plus, it sends you email alerts every time an order is canceled. 
Highlights:
Cancel pending order

Capture the reason behind the cancellation

Email alerts to admins

Manage all the canceled products in one place

Filter canceled orders based on categories and attributes

Restock products automatically
6. Product FAQ Magento 2 Extension
Build trust with customers by providing in-depth information about the product. 
The 'Product FAQ Magento 2 Extension' allows you to answer the most frequently asked questions related to a product. That instills confidence in the customer before purchasing and addresses last-minute hassles, ultimately increasing the chances of conversions.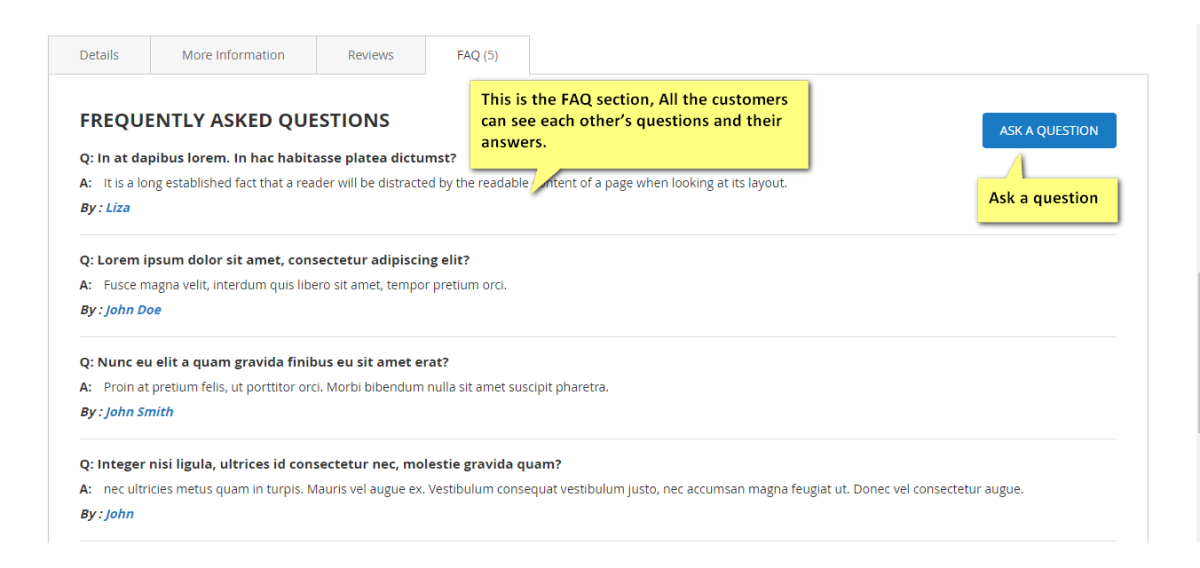 Customers can even post questions, and you can answer them from within the extension itself. It provides a hassle-free system to add questions asked by the customer in the FAQs section. 
You can add, edit, enable or disable any of the questions as and when required to ensure customers get up-to-date information. You can even filter questions based on attributes and categories to save time. 
Highlights: 
Add a FAQ section to the product pages

Allow customers to ask questions

Answer customers' questions and add them to the FAQ section

Edit, enable, or disable questions in the FAQ section

Filters to shortlist products
7. WhatsApp Product Share Magento 2 Extension
Allow customers to share products with their friends over WhatsApp.
The 'WhatsApp Product Share Magento 2 Extension' enables you to boost website traffic and drive more sales. It lets customers share your products with their friends and families over WhatsApp, thereby boosting word-of-mouth marketing. 
You can pre-define the description that will appear while sharing the product. However, the customer will also be able to edit the description. The extension allows you to place the WhatsApp share button in three places: the product detail section, the bottom of the screen, or both areas. You can even choose the size (small, medium, and large) of the button. 
Highlights: 
Share products on WhatsApp

Customize button size

Multiple positions to mount the share button

Custom text with product URL

Custom footer background-color
Wrapping Up
Magento 2 is a power-packed, ready-to-use eCommerce platform. However, the changing landscapes of eCommerce require you to stay at top of the trends, and that's where Magento 2 extensions can help. Each extension in this list is tested to help Magento eCommerce store owners boost sales and improve customer satisfaction!