Is Magento Preferable for Small businesses?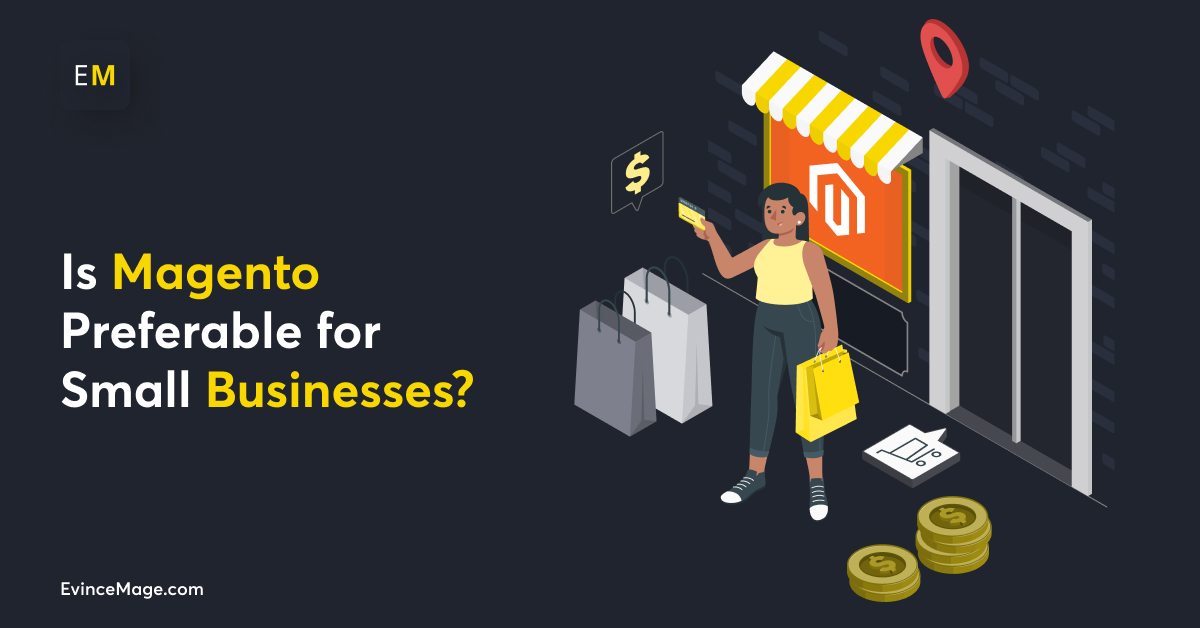 People were already buying products online. However, since last year, the ecommerce industry has been experiencing a huge boom. Customers spent $598.02 billion online with US retailers in 2019. The number increased 44% in 2020 to $861.12 billion. 
When it comes to ecommerce platforms, Magento is leading at the front. It is an open-source ecommerce platform with beautiful design, better security, and third-party integrations. 
With that in mind, we present you with some astonishing statistics and facts about Magento ecommerce and how it can help you grow your online business. 
Magento Usage Statistics
Acquired by Adobe, Magento powers 12% of all ecommerce sites. To be precise, more than 250,000 active sites use Magento. 

Here are some general statistics of Magento:
Most Magento stores are based in the USA (73,508), UK (15,506), and Germany (13,023). That said, let's look at country-wise usage stats as per BuiltWith.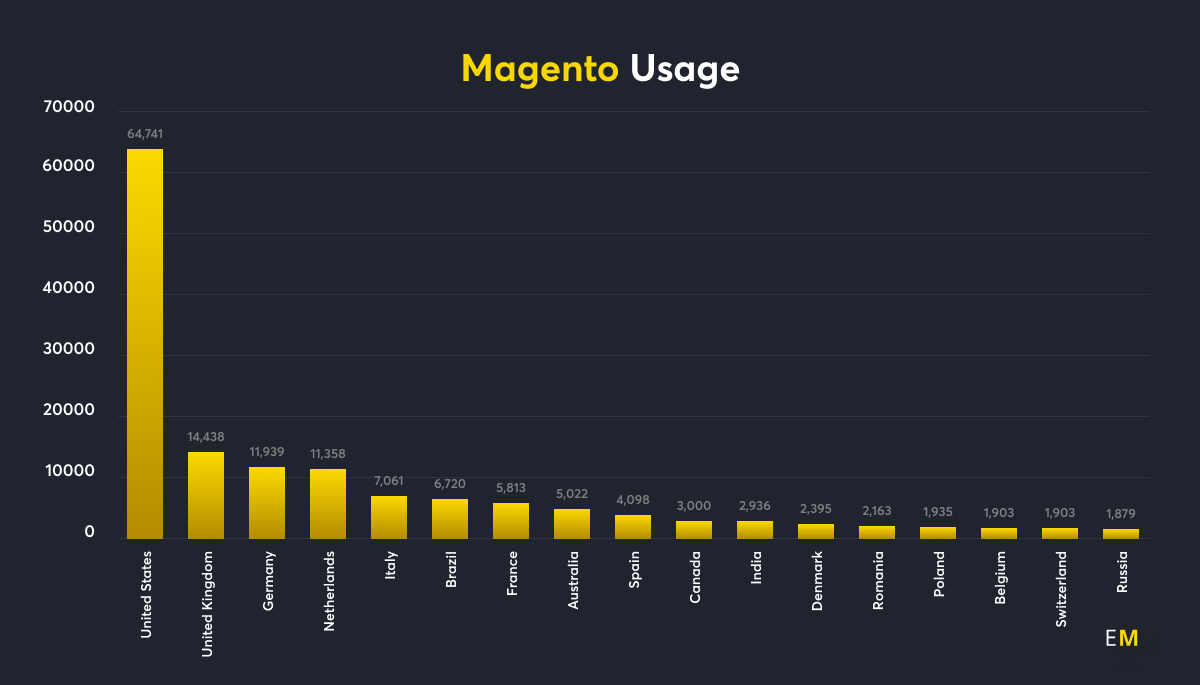 United States: 73,508

United Kingdom: 15,506

Germany: 13,023

Netherlands: 11,762

Italy:7,878

Brazil: 7,643

France: 6,227

Australia: 5,424

Spain: 3,910

Canada: 2,968

India: 2,842

Denmark: 2,394

Romania: 2,367

Poland: 2,129

Belgium: 1,983

Switzerland: 1,906

Russia: 1,748

Misconception About Magento: Not Suitable for Small Businesses
One of the biggest misconceptions about Magento is that it is not suitable for small businesses. As mentioned above, Magento is an open-source ecommerce platform, meaning the basic version of the platform is free. This makes Magento one of the best ecommerce platforms for small businesses.
Magento CE (Community Edition) allows you to build a unique online store from scratch. All you will need to invest in is in creating and hosting the website. If you have coding knowledge, you can build the store yourself.

The free version of Magento ecommerce offers features like:

Integrated checkout, payment, and shipping

Mobile optimized shopping

Global selling

Catalog management

Extended functionality via the app marketplace

Instant purchase

Site search
Another benefit of Magento for small businesses is that it is highly scalable. As your ecommerce business grows, you can migrate to Magento Enterprise to effectively handle increased site traffic and manage product configurations.
Also, Magento ecommerce solution offers hundreds of mobile-optimized themes, enabling you to meet your smartphone-friendly customers' expectations. This also increases your chances of ranking on the top of search engine result pages (as Google uses mobile-friendliness as a ranking factor).
When it comes to adding extra functionalities to your store, there are several third-party tools (apart from the ones in the Magento marketplace), such as Evince Mage extensions.

Concrete Reasons why you should Go for Magento
Now that you know Magento is one of the best ecommerce platforms for small businesses, let's look at why you should choose it.

1. Large developer community
Magento has a vast global network of 1,150+ solution and technology partners. Also, there are more than 300,000 Magento developers globally.
This means you won't have to worry about creating your Magento online store. You can choose from a plethora of developers and agencies as per your requirements and budget. Also, you can go for niche Magento developers to get better results.
Magento Community Portal allows you to connect with developers working on different projects (e.g., asynchronous import, multi-source inventory, Adobe stock integration, etc.) via groups and Slack.
Another benefit of such a large developer community is that you can learn from them or even hire them to maintain your store. Or you can ask questions and get answers quickly. Without the community, you would have to rely on the support team and wait until they solve your issues.
Here are some forums where you can get an answer to anything about Magento ecommerce solution: StackExchange, GitHub, Magento Forums.

2. Budget-friendly
As mentioned above, Magento is an open-source ecommerce platform. You only have to pay for hosting and creating the site. Besides, it gives you complete flexibility to manage your store's content, looks, and functionalities at no extra cost, making it the best small business platform.
Even if you are bootstrapped or have a limited budget, you can find a developer that fits your budget. The same goes for hosting. Magento hosting starts from as low as $1 per month. However, we don't recommend choosing the cheapest option as they might hurt your store's performance.
Also, any update that Magento releases is free. These updates help improve your store's performance and security.

3. Extension facilities
Being a leading small business platform, Magento has one of the biggest marketplaces of all ecommerce platforms. These extensions help enhance the functionality of your online store.
Whether you are looking to integrate your social media pages, strengthen security, offer guest checkout options, or market your store, there's an extension for you.
For example, you can add social feeds to your Magento store using Social Feed Magento 2 Extension. Or enhance the ordering experience using Product Matrix Magento 2 Extension.
There are both free and paid extensions, enabling you to choose the one that fits your budget.

4. Scalable
Magento offers two options: Magento Community Edition (free) and Magento Enterprise Edition (paid).
When starting your ecommerce business, you can go for Magento CE. However, as your business and site traffic grows, you can switch to Magento EE without much hassle. Magento for small businesses offers all the necessary ecommerce features.
Magento EE provides access to some advanced features, such as business intelligence dashboards, customer loyalty tools, visual merchandising, product recommendations, customer segmentations, PCI compliance, customer success manager, and more.

5. SEO-friendly
You can't get customers if they cannot find you online. A survey of 14,000 people found that 48% of them start their shopping journeys on search engines.
This makes search engine optimization even more important. As a leading ecommerce platform for small businesses, Magento 2 offers various SEO features, which, when utilized, can help you rank higher in search engines, such as:
Meta tags for product and catalog pages

SEO-friendly URLs for product and categories

Meta tags for home page

Images optimization

Robots.txt and XML sitemaps

Canonical tags

Rich snippets

Voice search

Navigation optimization
 However, you should also follow the SEO best practices to increase your chances of getting to the top of SERPs.

6. Robust Security
The online world is not insured from fraud and data theft. Also, cybercriminals target ecommerce companies more than any other industry.
As the best ecommerce platform, Magento offers several built-in security features that reduce risks of data leaks, information theft, unlawful transactions, and other malware attacks.
Also, with every update, Magento ecommerce aims to improve its security features and ensure you can carry your operations without fearing data breaches.

7. Mobile Friendly
79% of smartphone users have purchased online using their mobile devices in the last six months. The share of mobile commerce in all ecommerce is expected to rise to 72.9% in 2021.
Magento is a mobile-friendly platform. No matter which device your customer uses, they will get the same shopping experience, thereby increasing the chances of conversions.
Having a mobile-friendly website also increases the chances of ranking on the top of search engine results pages.

Conclusion
Magento is one of the popular ecommerce platforms out there. It offers a free version for small businesses and cash-strapped entrepreneurs, allowing them to grow their businesses at minimal costs.
Magento has over 250,000 active sites and a community of more than 300,000 developers. It also has a wide range of extensions both in its marketplace and outside.
Evince Mage is one of the leading Magento development agencies. We even provide Magento extensions to enhance your online store's functionalities.

FAQs for Magento
1. Is Magento a good ecommerce platform?
Magento is one of the best ecommerce platforms that offers you complete control over your online store. It also has in-built security features to protect your website from cyberattacks and is optimized for mobile devices.

2. Is Magento good for small businesses?
Yes, it is. Magento is an open-source ecommerce platform. You can choose the free version of Magento and enjoy features like integrated payment, mobile-optimized shopping, global selling, catalog management, and site search.

3. Does Magento support third-party extensions?
Yes, Magento has a vast marketplace of third-party extensions. You can choose from categories like accounting & finance, customer support, marketing, payments, analytics, sales, shipping, and more. Plus, there are both free and paid extensions.

4. Can I do SEO for my Magento store?
Yes, Magento provides several in-built SEO features, such as meta tags, XML sitemaps, image optimization, canonical tags, voice search, robots.txt, and rich snippets. However, we recommend following the SEO best practices to get the best practices.

5. How good is Magento support?
Magento has a vast community of developers and technology partners. There are several forums where you can get answers to questions related to Magento. It also has a broad knowledge base where you can find solutions to various issues, such as support tools, troubleshooting, and how-to guides.