7 Things to consider before hiring Magento developers for your ecommerce site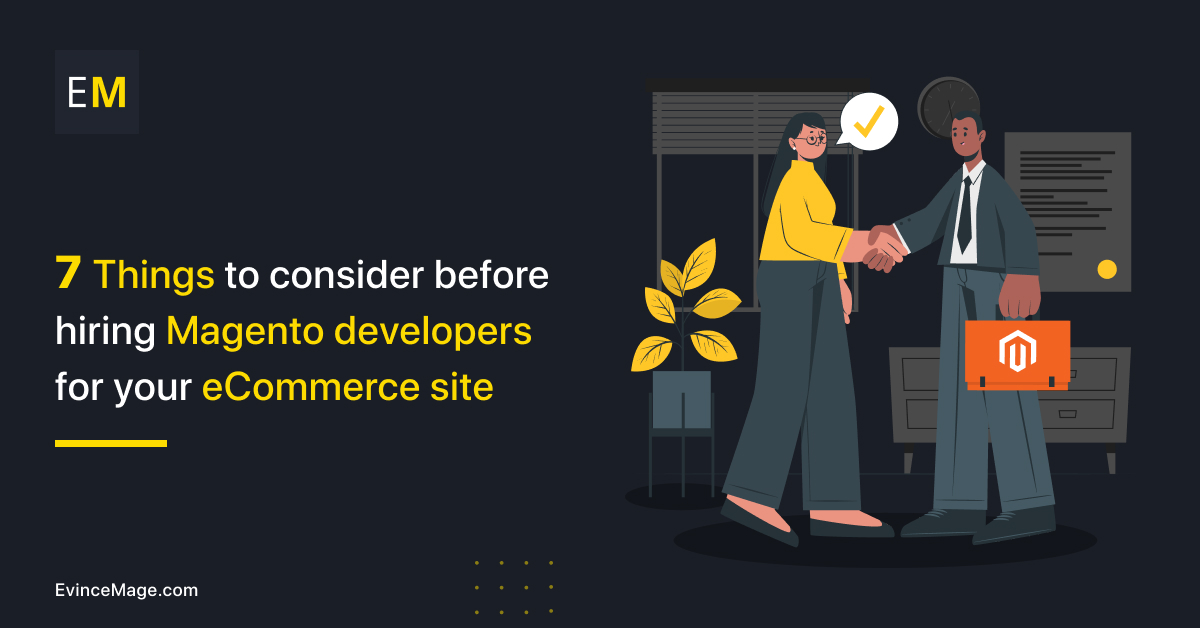 Magento is an open-source ecommerce platform with rich features and offers unrivaled flexibility to online retailers. Besides, it is one of the most scalable platforms out there, thereby supporting your business growth. 
There are over 270,000 merchants who choose Magento for their business. The platform also handles over $100 billion in gross merchandise every year. 
But what makes Magento so widely used? If I'm considering using Magento for my online store, who should build it for me: a company or a freelancer? We will answer these questions today. Plus, you will get a bonus checklist on how to hire Magento developer. 
Why Magento?
The cutting-edge technology combined with beautiful design and robust security makes Magento one of the best ecommerce platforms in the market. Built especially for ecommerce, Magento offers features like: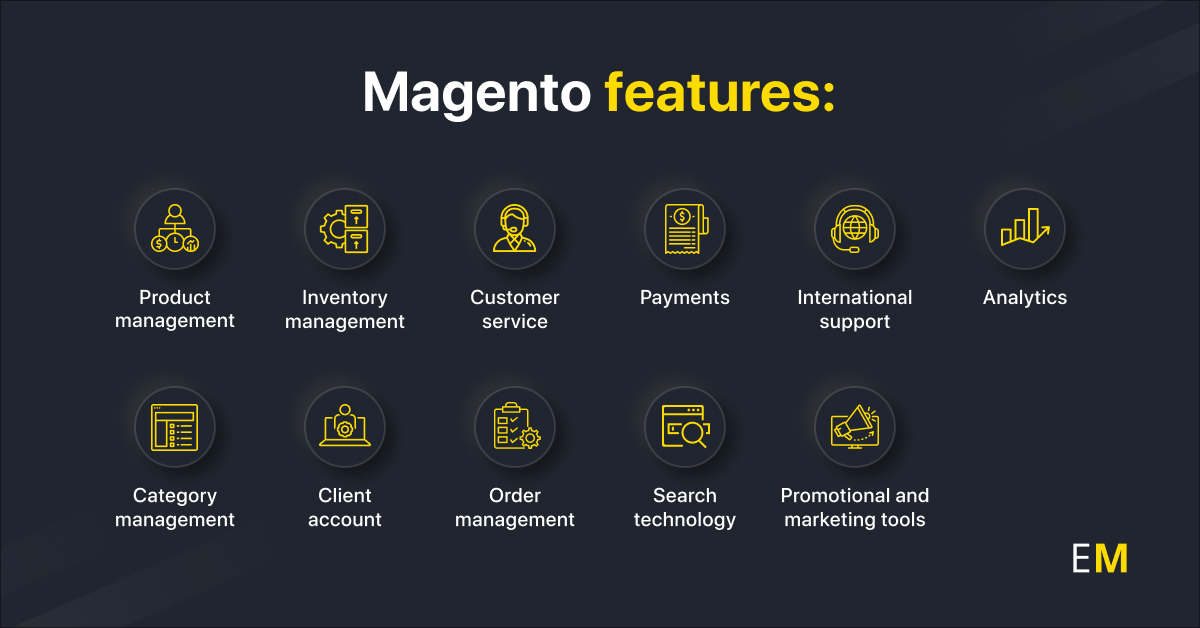 Product management

Category management

Inventory management

Client account

Customer service

Order management

Payments

Search technology

International support

Promotional and marketing tools

Analytics
Apart from the excellent features, Magento offers user-friendly navigation and commendable structure to enhance the user experience. It also has a huge community of developers, bloggers, project managers, CEOs, etc., who you can turn to when you need any help. 
Here are some more reasons to use Magento web store: 

Is a highly customizable platform

Gives the freedom to choose the hosting provider

Ensures your website is mobile-friendly

Lets you integrate third-party add-ons and modules

Performs better than most ecommerce platforms (in terms of loading speed)

Has an in-built SEO plugin that offers features like search-friendly URLs, sitemaps, meta tags, etc.

Has implemented multiple levels of security features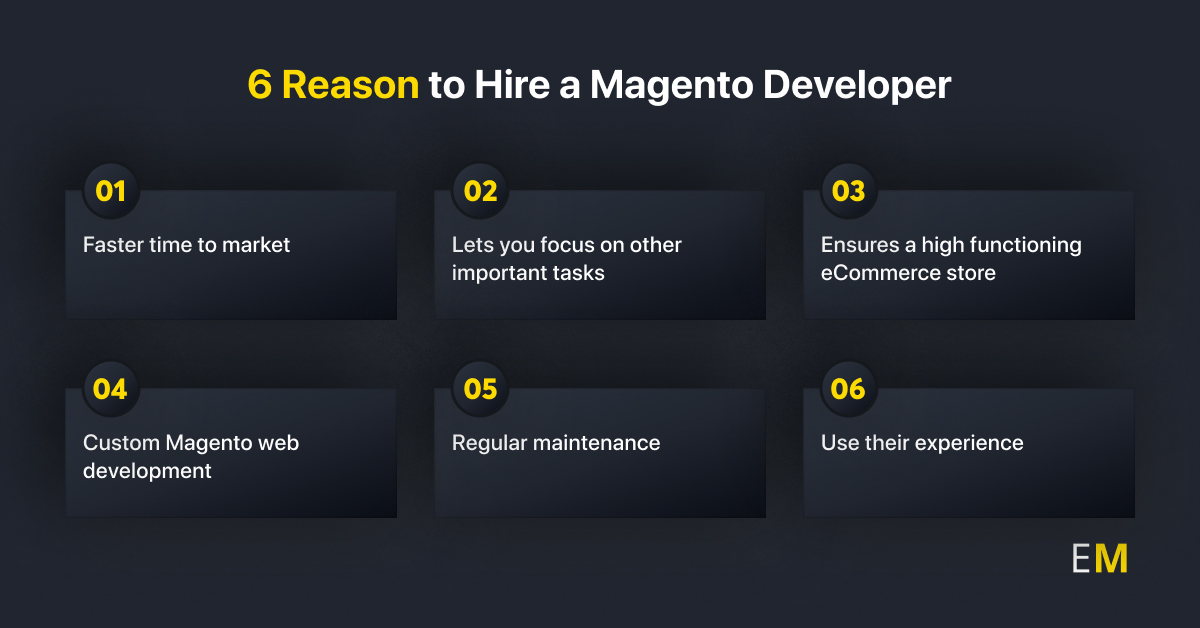 Reason to Hire a Magento Developer
Creating a Magento web store requires extensive coding skills (PHP). You can learn the platform easily, but if you are not acquainted with PHP, it could be challenging for you to build the store. 
Here are some reasons you need to hire a Magento developer. 
Faster time to market: Magento developers are well versed with the platform and have the necessary technical skills. This means they can build your Magento ecommerce store faster than anyone with no platform knowledge. 
Lets you focus on other important tasks: As an ecommerce owner, you have many jobs at hand (sourcing the product, creating a marketing campaign, deciding on the right price, etc.). When you hire a Magento developer, you free yourself of one task and focus on other business aspects. 
Ensures a high functioning ecommerce store: Online retail stores are all about performance. If shoppers find it difficult to buy from you, they will likely never come back. Professional Magento developers ensure your site performs as good as possible. 
Custom Magento web development: Every ecommerce business has unique requirements. Magento developers can build a highly customized ecommerce store that meets your business's requirements and aligns with your long-term goals. 
Regular maintenance: Most professional Magento developers offer regular maintenance services at a nominal cost. Some even offer free maintenance for a few months (you will have to discuss this at the start of the project). Regular website maintenance ensures optimal performance all the time. 
Use their experience: If you hire a Magento developer who has developed hundreds of ecommerce stores, you can use their experience to brainstorm ideas and make your website even better. 

Shall I Hire a Freelancer or Choose a Company?

Now that you know why you should be hiring a Magento developer, the question is who to hire: a freelancer or a company? 
We will make the choice easier for you. 

Hiring Freelancers: Pros
Flexibility: Freelancers usually don't have fixed working hours. They can handle more or less work at their convenience. Also, they can work extra hours to deliver the project on time. 
Reasonable rates: Freelancers charge less than a Magento development agency. You will find a 20-35% difference in the rates of a freelancer and a company. 
Core specialization: Most freelancers focus on only one area to gain expertise and build their personal brand. This means a Magento freelance developer will most likely know all the ins and outs of the platform.
Can be found easily: There are several freelance websites (Freelancer, UpWork, Fiverr, etc.). Also, many freelancers use LinkedIn to spread the word about their business. This makes it easier to find a skilled developer. 
Hiring Freelancers: Cons
They ghost: Some freelancers accept more projects than they can handle. When they are unable to find the time to do your project, they might vanish. Therefore, it is recommended to do a background check before hiring a freelancer. 
Not all freelancers care about the project's quality: Some freelancers are in the business just to make quick money. They just want to deliver the project as soon as possible, negatively affecting your ecommerce site. 
No guarantee of maintenance: Every ecommerce website needs regular maintenance and upgrades. Since freelancers work on a project basis, they might not offer maintenance services. 



Hiring a Magento Agency: Pros
Process-oriented workflow: Leading Magento commerce development agencies like Evince Mage follow a process-oriented workflow to complete your project. Besides, you just need to speak to your project manager to get details into the project's progress, suggest changes, and approve the design. This systematic procedure ensures your Magento store is completed on time and as per your expectations. 
Vast experience: Magento web development agencies usually have a team of experts in different areas. This means you are more likely to get the best possible solution for your business. 
Legally binding: When you hire a Magento development agency, you will sign a contract. This prevents the agency from ghosting you or asking for extra fees at a later stage of development. 
You get the highest-quality Magento store: Magento commerce development agencies have a reputation to maintain. Also, developing Magento websites is their bread and butter. Therefore, they strive to deliver the highest-quality website to you. 
Regular maintenance: Most Magento web store development companies offer regular maintenance services as a part of their project. In most cases, it will be free for 6-12 months, after which you will have to pay a nominal fee annually.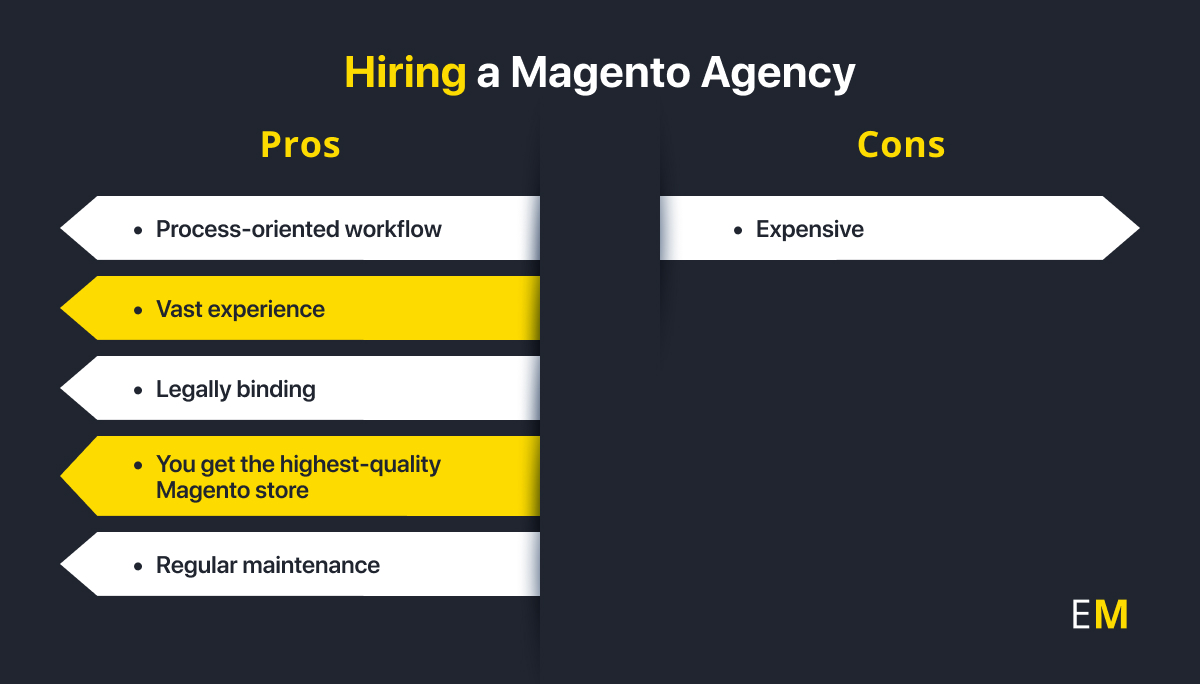 Hiring a Magento Agency: Cons
Expensive: With a Magento development agency, you get a team of experts and a dedicated project manager. Also, they offer free maintenance. Therefore, they charge more than freelancers. 
Who to Choose: Freelancer or a Company?
It depends on your budget and project requirements. If you think you can take care of maintenance in the long run, you can go with a freelancer. However, if you need regular assistance from a technical point of view, an agency is the right choice. 
Make sure to analyze the pros and cons of both freelancers and the agency before you conclude. 
Important Factors to Consider Before Hiring a Magento Developer
Irrespective of who you choose (freelancer or an agency), there are certain factors that you should consider before hiring them. 

1. Get your ideas and requirement clear
It is vital to have a clear understanding of what you need. What kind of website are you looking for? Begin with writing all your requirements and functionalities of your Magento web store. 
If you are not sure what you need, consider discussing it with your developer. They will help you with ideas and suggestions, to begin with. 
2. Check the background portfolio
Before you hire a Magento developer or Magento company, it is crucial to check their background portfolio. It depicts their experience and skills in Magento development. If you don't like their work, the chances are they are not the right fit for your requirements. 
Portfolio also helps understand if they have worked on a project similar to yours. If yes, it will ensure rapid development. 
3. Check ratings and reviews from previous clients
Reviews and ratings are a great way to assess the quality of work of the Magento developer. Freelance platforms like UpWork and Fiverr show a rating of the developers beneath their profile. For development agencies, you can search for reviews on Google. 
When looking at the reviews, look for frequency of communication to clients, the project delivery timeline, project management, adherence to client's expectations, and maintenance. 
4. Level of professionalism while communicating with clients
Ensure that the developer maintains proper communication throughout the project development process. The project manager or freelancer who manages your Magento development should be capable of understanding your requirements and updating you about its progress. 
5. Transparency in their policy
Transparency in the development policy is a must. Having a transparent policy eliminates last-minute hassles, prevents your project from being shelved, and protects the advance that you might have paid. 
Ask the developer these two questions:
What if you need some changes in the middle of the project? 

What if you want to cancel the project for some reason? 

What if you want to move the project deadline to an earlier date?
6. Meeting the estimated budget needs and cost
Irrespective of how big or small your budget is, you can easily find a Magento developer. However, it is vital to ensure that they meet your expectations. Make sure that they work within your restricted budget without compromising on quality. 
7. Support and assistance after completion of the project
As mentioned above, support and maintenance are important in Magento ecommerce stores. Ask your developer if they can provide regular assistance after the completion of the project. It is recommended to put the post-development support policies in the contract to avoid hassles after paying for the project. 
Conclusion
If you are looking to start an ecommerce business, Magento is the perfect platform to build a website. However, it is also crucial to hire an experienced developer to create the store for you. 
Analyze the pros and cons of freelancers and Magento development agencies before finalizing them. Also, consider the seven key factors mentioned above before hiring them. 
Evince Mage is a leading Magento website development agency. We even provide Magento extensions to enhance the functionality of your ecommerce store.