Top 9 Reasons Why Magento is the Ideal B2B eCommerce Platform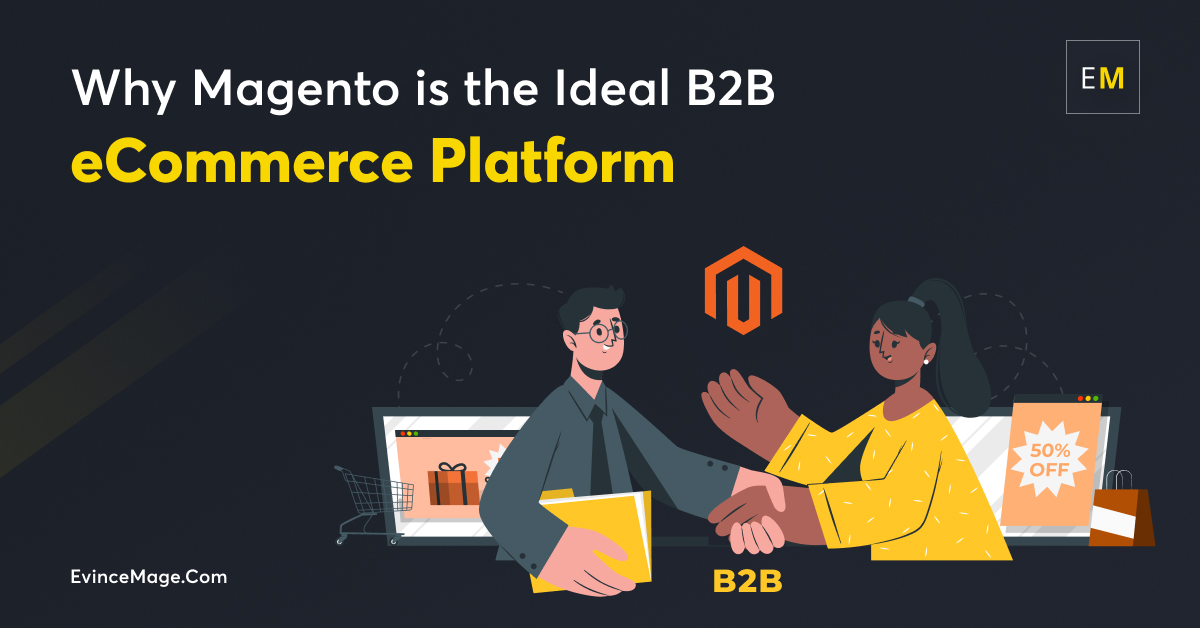 Magento is a well-known brand formerly associated with products for the B2C commerce business. However, everything changed once Magento 2.2 was released, and the platform's core now includes native B2B functionality.
The question now becomes, why Magento Commerce for B2B users? Why not just regular eCommerce development? Most b2b commerce platforms do not provide a rapid, seamless, and convenient buying experience. Instead, they follow the B2C model but with minor changes for b2b customers. Customers won't be drawn in by this, and your user experience will deteriorate.
This article provides a comprehensive overview of Magento B2B commerce and explains why switching to Magento is a good idea.
B2B Features in Magento 2
Let's look at the nine unique reasons why Magento is the best B2B e-commerce platform:
1. Multiple Buyers per Account
Multiple buyers per account is no longer a problem with the release of Magento 2.2. For b2b businesses, this version offers the Magento 2 business account features, and it is designed to ease the complex demand for b2b account management of your customers.
B2B dealers may help company accounts with several prospects in various organizational structures due to this functionality. The Magento 2 B2B account allows numerous users to share information and make sales decisions. But everything falls under the defined authority and position.
With Magento 2.2, B2B company accounts, B2B customers may sign in and maintain the company structure, business page, and account information, as well as keep track of requisition lists, quotations, and more.
2. Company Users
With all rights reserved for the admin, Magento 2.2 enterprise version permits company accounts to offer access to many users, usually B2B dealers. The admin has the power to add, edit, and delete business users from the system.
On the "company user" area of the account dashboard, merchants may view a complete list of assigned users. The company admin can add as many users as needed and assign them roles inside the organization by selecting or creating a new user tab.
B2B merchants can change the assignment or add any number of customers to the business from the admin panel. The company's organizational structure is simple to group users into desired teams.
3. Request Quotes
The regular B2C checkout procedure involves credit card payment, but because most items aren't in the set price category, a b2b buying experience starts with a request for a quote—the workflow for the request for quotation process is more straightforward in Magento 2.2.
B2B customers may submit quotations requests directly from their shopping cart. Dealers might include supporting materials or notes when requesting quotations to explain the required pricing range. They can also communicate with the dealers and view the quote's status.
A B2B company may determine what % discount offers will best fit the margin objectives for each quote, as well as the expiration date and overall cost. Additionally, the quotation tool suggests adding more SKUs or substituting higher order pricing.
4. Company Structure
B2B commerce is challenging! Not because the products and services are unlimited but also because of the prolonged sales cycle, which often entails several steps. It's better to have an extendable and logical framework to handle such a task. The organizational structure of Magento B2B is perfect for you.
When a B2B account is activated, the admin is added to the business structure, and only the admin can grow it according to the different operational management procedures. The structure must comply with the realistic buying procedure with various corporate users per business subdivision and division.
A Magento development company gives retailers the flexibility to give their customers a personalized navigation experience. If you haven't moved, do so immediately to enjoy the benefits of Magento eCommerce solutions.
5. Quick Order and Requisition List
B2B commerce systems are anticipated to offer full support for sales orders, including quick reorders for wholesale merchants to increase repeat business. Customers can place orders using SKUs or upload CSV files together with the SKU.
Magento confirms that the SKUs are included in the inventory & catalog & assists in retrieving information such as the price or a thumbnail image so that the customer may confirm whether or not the proper SKUs have been submitted.
Magento also offers tailored features like a list of products with high reorder rates. To start the buying process, customers only need to add the product, input the quantity, and click add to cart. Additionally, customers may create several lists and add them to their accounts.
To create such lists, customers can copy-paste the prior order listing or select "add to the requisition list" from products on category sheets. Additionally, it allows customers to buy from a presale list while maintaining the same checkout choices. By doing this, shopping becomes more accessible and less time-consuming.
6. Permissions and Roles
Every corporate user (other than the administrator) must be prohibited from accessing certain information and documentation in Magento 2 stores to improve the performance and quality of B2b companies. However, as was already noted, corporate administrators can create and change any number of users, then give their subordinates roles and permissions. Additionally, the basic Magento 2 B2B account feature has helped the default user, assistant buyer, and senior buyer user roles.
Users with roles lower than senior buyers may have access to all data about quotations and sales. The default user is specifically in charge of quotes and sales. However, these two roles can only access the company's credit, profile, and other information. While the assistant customer users may be permitted to utilize the quotation check out to place an order, they may also browse quotes, orders, and company profiles.
7. Account Management and Catalog Permission
B2B account management is far more involved than B2C account management since b2b buyers are entire teams or groups of people. Company accounts were developed by Magento specifically as a tool for B2B users. Visitors who are representatives of any organization may use this function to request the admin account, and they can then independently create sub-accounts with specific permissions.
This feature is based on the company structure to share access capabilities with multiple users and responsibilities. Business-to-business companies that offer enterprise management software will benefit from this model.
"Catalog Permission" is the second security hurdle to keep your data safe. A new "Category Permissions" section that appears after activation enables you to apply the required permissions for every category. Each category can have several permission rules added for various websites and client groups.
8. Purchasing Workflow
A streamlined and easy-to-use request for quotation workflow provided by Magento B2B Commerce aids customer quoting and pricing negotiations. It is entirely managed by Magento or by utilizing APIs to access external services.
When you turn on B2B Quotes in the settings, the buyer requests a shopping cart quotation to start the price negotiation process. Every email conversation between the customer and seller is monitored and developed from a detailed view of the quote.
Payment delays are expected in B2B transactions involving big orders and committed business relationships. With Magento 2.4, businesses may now complete their checkout with future payments.
9. Analytics
Business-to-business websites need more comprehensive, tailored analytic solutions than B2C websites since every one of their consumers is different, even if they are placing the same orders for the same items. A business analytics system that enables you to customize KPI tracking for each consumer by specific categories, activities, contracts, etc., is crucial.
Monitoring the health of your company is easy with Magento Business Intelligence. You may obtain the most in-depth data from over 25 B2B-focused reports in simple-to-use dashboards, especially with Magento 2.4.
Why should your current B2B Commerce platform be replaced by Magento 2?
1. Not built for speed
Speed issues affect conversion rates. B2B buyers are always busy and do not have time to waste on slow-loading, low-quality websites. Therefore, 47% of users expect a website to load in under two seconds.
2. Customers cannot order by entering SKU.
The ordering process is ramped up when done by SKU. For example, if you sell distemper paints and a customer buys 500 boxes every month, there's a high possibility they'll prefer to order by SKU because it makes the process simple.
3. Fails to offer self-service features
Many B2B e-commerce platforms restrict users from doing everyday activities like monitoring order progress, verifying credit limitations, or confirming the shipping details of the dispatch item. It is essential to migrate to Magento commerce if your B2B eCommerce platform does not offer these functionalities.
Conclusion
Magento commerce is the best choice whether you want to establish a brand-new B2B website, migrate an existing one, or employ a Magento developer for Magento development services. It has native B2B functionalities that simplify purchasing and take care of every B2B business challenge.