How Magento 2 Mobile App helps to grow your Online Business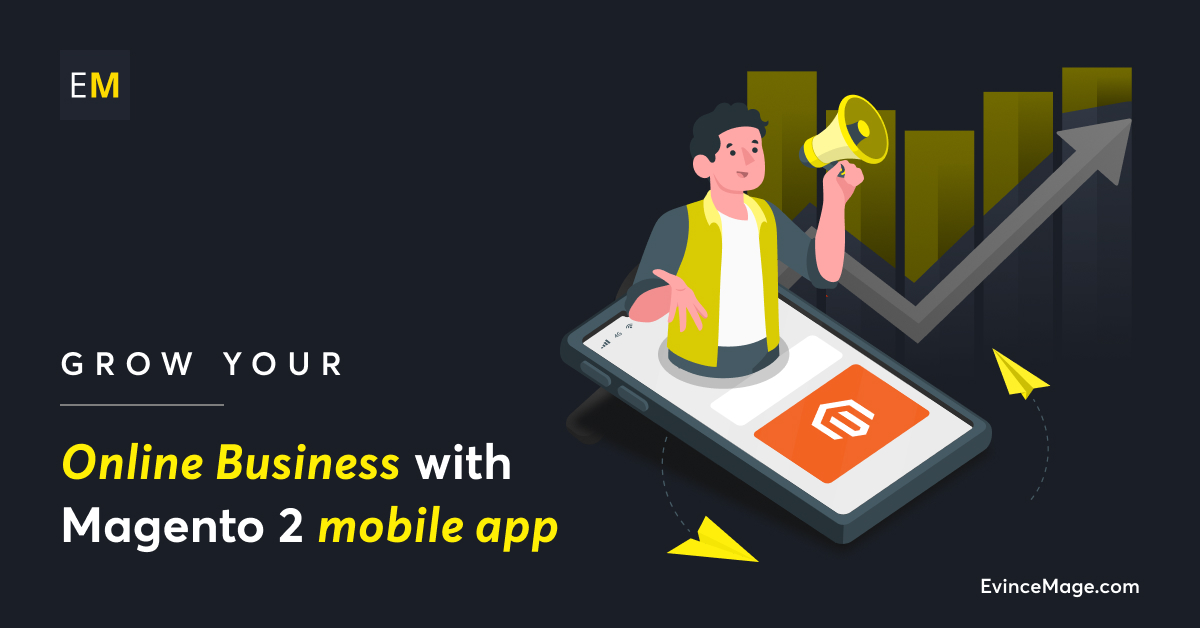 The rise in the adoption of smartphones has a direct impact on ecommerce sales. Mobile ecommerce sales are expected to reach $432.2 billion in 2022. The number is forecast to exceed $4.5 trillion by 2024 (amounting to 69.9% of total ecommerce sales). 
As an online retailer, if you have not optimized your website for mobile, you are missing a lot of customers. Plus, you are likely directing your potential customers to your competitors. Read on to understand the importance of mobile ecommerce. 
This article will discuss the must-know mobile ecommerce trends, statistics, and how it helps boost sales. We will also talk about how you can optimize your Magento webshop for mobile. Let's get started!


Mobile Ecommerce Statistics and Trends 
Let's begin with some statistics: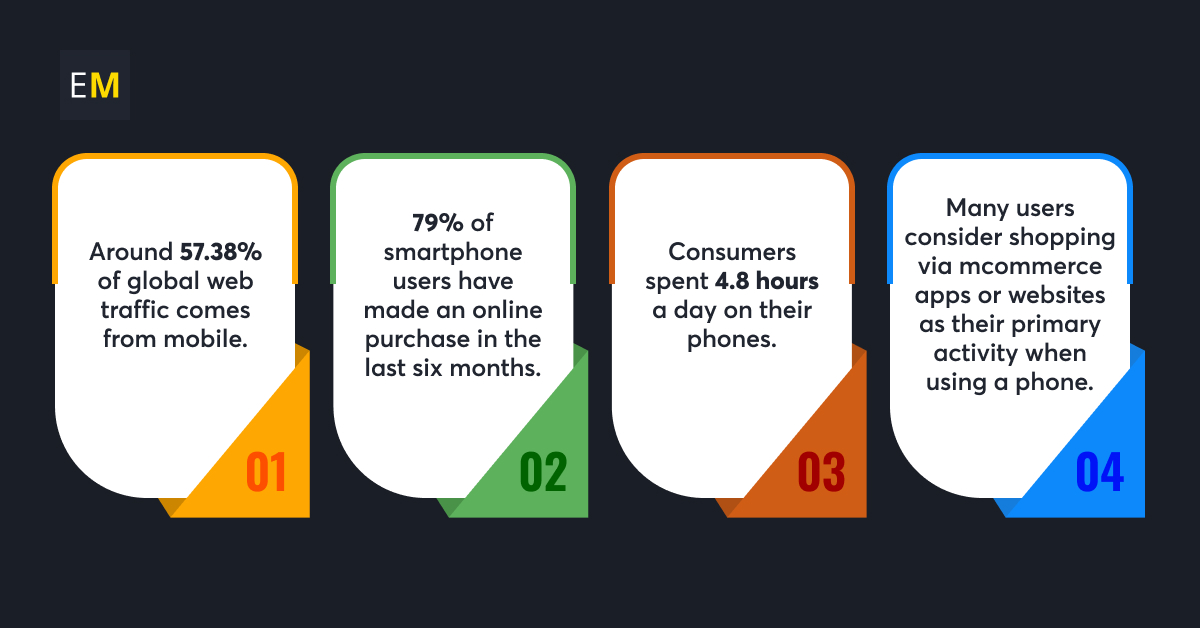 Let's look at some country-specific mobile commerce statistics. 




Now that you know how vital mobile ecommerce is for online retailers, let's look at the latest m-commerce trends. 

1. Magento Mobile Apps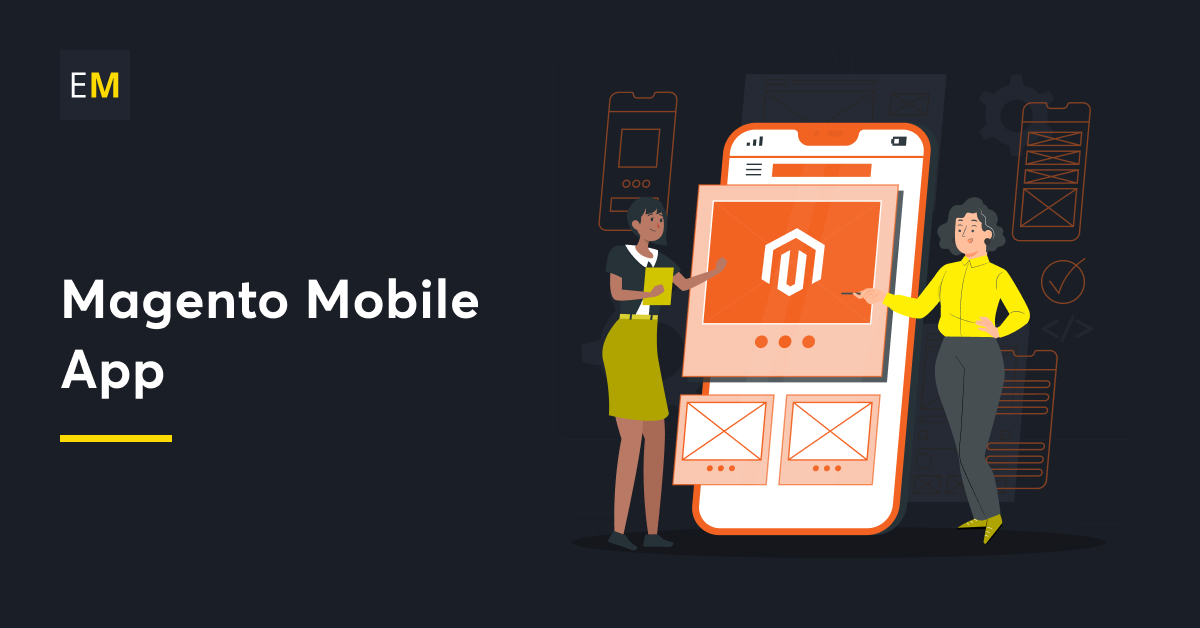 As mentioned above, when using a mobile, people spend more time on apps than anything. 
This makes it imperative to create a mobile app for your business. However, it is crucial to ensure a great user experience while keeping the size of your app to a minimum. 
Magento 2 mobile app makes shopping more convenient than web browsers. It also reduces the number of steps required to purchase the product (as users are always logged in and can make payments from their digital wallets). 
Plus, when users download your app, you will always be on top of their minds when they need something that you sell. 
So, by building an app for your ecommerce Magento store, you can convert more customers while making their lives easier. 
2. Progressive Web Apps
A progressive web app (PWA) is a lightweight version of your website that looks just like a mobile application. Users can add your PWA to their mobile's home screen and shop anytime they want.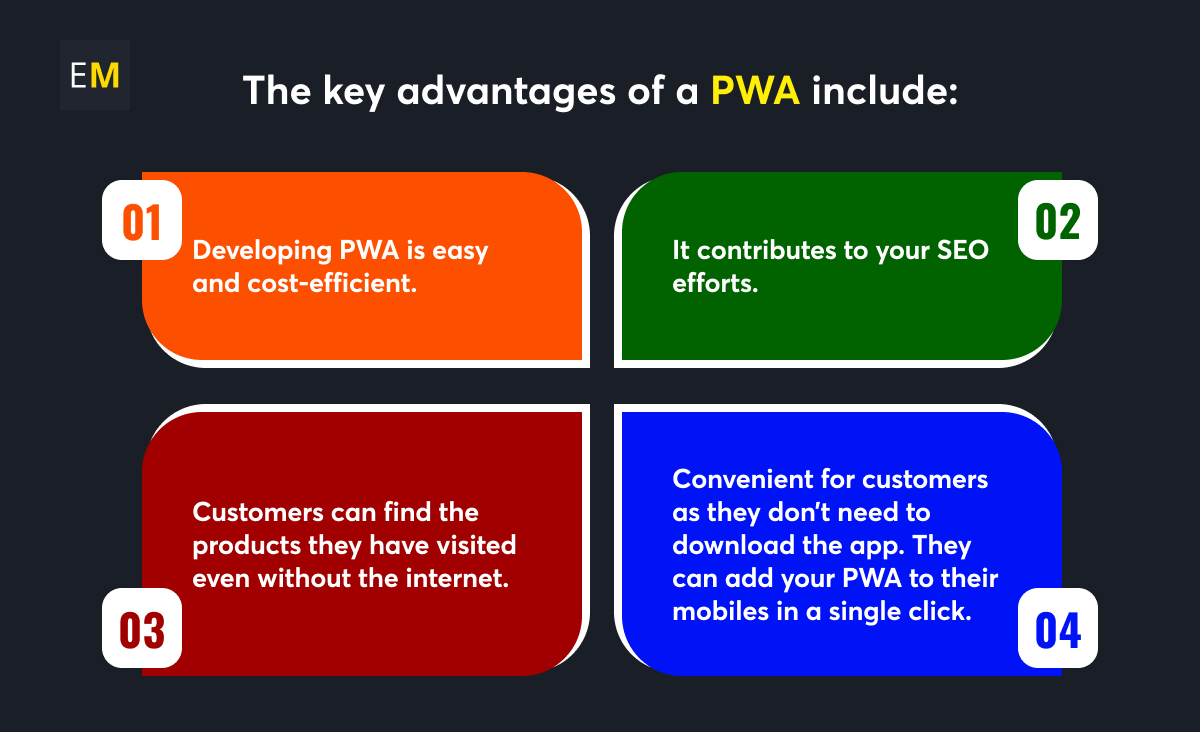 The key advantages of a PWA include:
● Customers can find the products they have visited even without the internet. 
● It contributes to your SEO efforts. 
● Developing PWA is easy, cost-efficient, and convenient for customers as they don't need to download the app. They can add your PWA to their mobiles in a single click. 
By creating a PWA for your ecommerce Magento store, you can attract and convert mobile customers who don't want to install the app. 
3. One-Click Ordering
Mobile shopping is likely to get even more convenient with one-click Ordering. But, just like nobody likes to stand in a long queue, customers don't like to enter lots of information (name, credit card number, card verification, shipping address, email address, etc.) every time they purchase anything - that too on a smaller screen. 
One-click Ordering includes saving every minor detail of the customer so they can checkout as quickly as possible. Thus, apart from minimizing frustration, it helps increase the conversion rate. 
A Magento 2 mobile app can help implement one-click Ordering, thereby enhancing the customer experience and generating more sales. 
4. Social Commerce
33.44% use social media platforms like Instagram to discover new products?
Shoppable Facebook and Instagram have just taken the ship forward by allowing customers to purchase the product they like. 
By tagging the products in your post, you can allow customers to buy the product directly, and they can even complete the transaction without leaving the social network. 
This will reduce the steps involved in the checkout, thereby increasing the conversion rate. Brands report a 1,416% increase in traffic and a 20% increase in revenue from Instagram Shopping. 
How Can Mobile Apps Help Increase Your Sales?
Magento 2 mobile app can increase your sales in many ways, such as:
1. Push Notifications


With compelling, concise push notifications, you can encourage customers to open your app and purchase products they love. You can also let them know about upcoming sales, offers, discounts, and new releases to entice them into purchasing. 
2. Personalized Shopping Experience
While personalization has been on the mind of every ecommerce marketer, very few are leveraging mobile app personalization. Since you've less space (due to the smaller screen size), ensuring your offers are highly relevant to users is crucial. For example, you can display the latest offers on products on the customers' wishlist or the ones they viewed recently. 
3. Seamless Checkout
The checkout process becomes more straightforward since users are always logged in to their accounts on Magento mobile applications. They have their addresses, preferred payment methods, and other details saved, and they can purchase their favorite products in a few clicks. 
How to Optimize Your Magento Store for Mobile?
Even though many people shop online via smartphone, only 12% find mobile shopping convenient. That's a lot of room for improvement.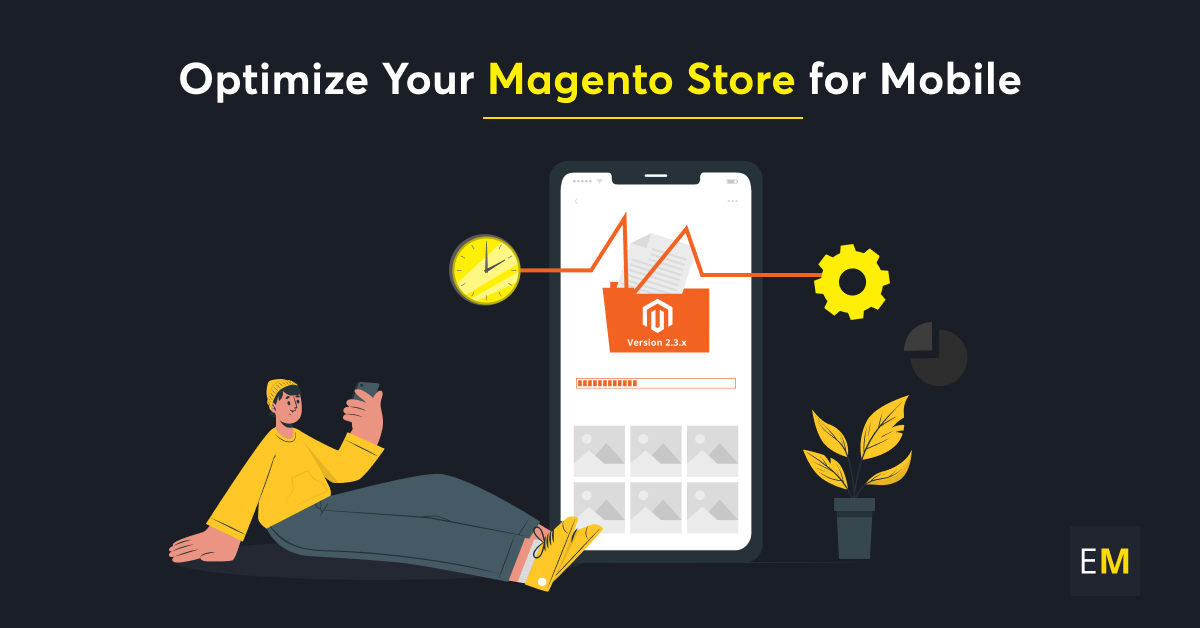 Let's look at some strategies to optimize your Magento webshop for mobile so your customers feel it is convenient while shopping. 
1. Use Responsive Website Design
No matter how great your ecommerce Magento store looks and performs on the desktop, if it doesn't provide a similar experience to your mobile users, you will likely lose customers. 
Therefore, we recommend using a responsive Magento webshop design. Make sure to test your website for navigation and functionality on devices of different sizes (mobile and tablet) to ensure it is responsive. 
2. Fast Website Loading
No one likes to wait. If your website takes too much time to load, customers will hit the back button. Your site should ideally take less than three seconds to load. 
We recommend using a CDN (content delivery network) and compressing your images to reduce the load on your server. You can also leverage browser caching to load previously visited pages quickly. 
3. Intuitive Checkout Process
Your end goal is to convert the customer. If it's difficult to buy from you, they might not complete the checkout process. 
Therefore, it is crucial to optimize Magento checkout process, including minimizing the steps involved. For instance, if you ask for a shipping and billing address, provide a checkbox that allows customers to choose the same address. 
Also, keep your forms and buttons bold and clear to ensure people with small screen phones can fill them quickly. 
4. Eliminate Annoying Pop-Ups
While pop-ups enable you to capture customers' attention, they can hurt their experience with too many opt-ins. Besides, it can be challenging to close the pop-ups on smaller devices. 
Even Google is cracking down on websites with invasive pop-ups via its Page Experience algorithm, and this means Google is less likely to show websites with too many pop-ups on the search results. 
5. Leverage CSS and JS Minification
Magento 2 has an in-built feature to minify CSS and JS files. This removes unnecessary codes from your source code, reducing the loading time. But, to use CSS and JS minification, you will need to switch to production mode. 
6. Reduce Third-Party Extensions
The more the extensions, the more time it will take to load. Run an audit to determine which plugins you need on your ecommerce Magento store and which you don't. You can also consider replacing single-use extensions with multi-purpose ones to reduce the strain on your servers further. 
Conclusion
Mobile ecommerce is going to surpass desktop ecommerce sales, and it will also define how people perceive your brand. Therefore, it is crucial to optimize your Magento webshop for mobile phones. You can also consider creating a mobile app for Magento 2. 
If you are unsure how to ensure the best possible experience for your mobile customers, it's best to get help from experts like EvinceMage. We offer professional Magento services, including improving and optimizing your Magento store to help you get more sales.