Why should the eCommerce Site owner need to upgrade to Magento 2.4?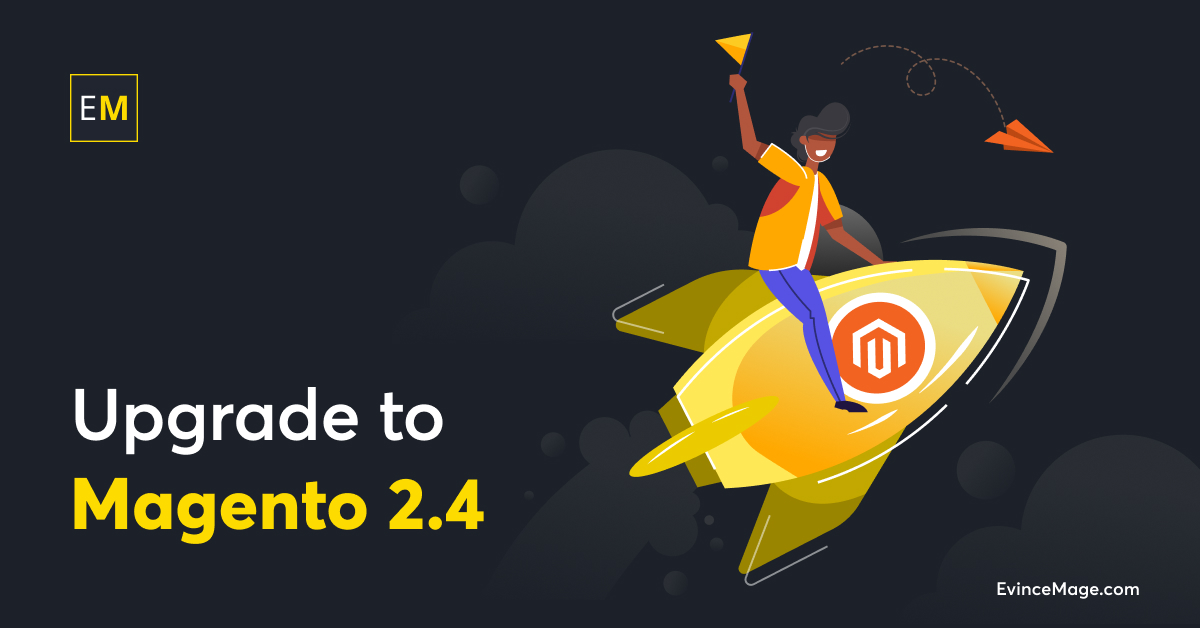 Technologies come and technologies go. Sorry, not technologies but their versions go and this reminds us of soon-to-be ending Magento 2.3. Most of you would know by now that Magento 2.4 releases have surfaced about two years ago. But yet many of the stores are stuck to Magento 2.3. In the race of getting better and advanced each day, the Magento community always wins and keeps evolving out better upgrades timely. But, some store owners are emotional towards the older versions and this might cause a problem for them now. 
You might be wondering what the big deal is if we are not switching. If you are still running Magento 2.3 releases then things might change significantly now as the official announcement of Magento 2.3 entering EOL (End of Life) in September 2022 has been made by Adobe. So, if you are still living in the soon-to-be old days, here is all you need to know about why to switch to Magento 2.4 releases and contact a Magento Development company now.
Detach yourself from the Magento 2.3
If you stick to the older version then here is all you have to suffer after the EOL phase begins for the Magento 2.3 Version:
Complete end of official support
Magento 2.3 entering EOL literally means the same as Adobe will pull all official support back from the platforms running on this version. You won't be able to receive any updates, support, security patches, bug fixes, etc. officially from September 2022. If you continue using Magento 2.3 after the EOL date, it would be solely at your own risk and you would have to handle all the vulnerabilities and flaws on your own.
Handling an e-commerce store is a risk in itself and topping it with serious threats without official support doesn't seem to be a wise take to us.
Extensions will be disturbed
It is not rocket science to comprehend that most of the vendors will prefer the advanced release of the Magento and if they do and you don't, then you won't be compatible with your marketplace. As far as we feel, there is no bigger nightmare than losing your vendors for an eCommerce platform. So, unless you want your business to slip to new lows, it is better to shift to the latest Magento before September. 
No support tickets
In addition to halted updates for Magento 2.3, your support tickets will also not be entertained after the EOL phase of the 2.3 release begins. If any problem begins with the store while using it, you will have no official support to mend the issue and you won't be assisted by the Magento dev team. 
Removal of Magento 2.3 documentation
Okay, we know that you are good enough to solve your problems on your own, but you will need documentation right? Here you have a reason again to get the 2.4 version as once the old Magento version is deplored; all the developer documentation is removed from the website leaving you with no resources to solve your problems by yourself. You might find some of the copied documents over the web but the efforts are not worth it. 
Why to Switch?
Yes, we were not telling anything else but before we were telling the consequences of the EOL rollout for the old version and why you should not wait for more for the switch. why you should adopt Magento 2.4. Here are some convincing reasons why to opt for the 2.4 version:
1. Increased Security

Security being the primary reason behind using Magento upgrade, its added safety features are strong parameters to make the switch. It is complemented with the 2-factor authentication support for access and hundreds of bug fixes that accounts for an airtight security system. Additionally, you will get all the updated security patches with the Magento update as more than 30 issues in the 2.3 version are fixed in this one. 

The introduction of reCAPTCHA at the storefront and Composer 2 compatibility for the removal of denounced core integration mechanisms adds to the security of the website.

2. Buy online, pickup in-store support
This feature of the Magento 2.4 created a buzz as soon as it was introduced in 2020. By choosing the advanced version of Magento, you can integrate the BOPIS feature into your virtual store website and app.
3. No data rendering
The data rendering feature for UI data providers has been eliminated completely in the latest version to prevent any malevolent execution of the javascript from external sources. 
4. Infrastructure Improvements
In Magento 2.4, various infrastructure improvements are made like composer update plugin, removal of web Setup Wizard, etc. These improvements are a big upgrade to the issues felt in the previous versions. 
5. Adobe Stock Integration
With the 2.4 release, you can now easily add assets to the website of your store as it has included native integration with Adobe Stock. The stock image preview licensing is allowed to merchants now for a faster process, unlike the 2.3 version. 
6. Improved Media Gallery Performance
Magento 2.4 leverages better performance by the media gallery as it is 30 X faster than the 2.3 version. Sounds better? It actually is better and more convincing for considering the switch. 
7. Upgraded Performance
With better overall performance, the new Magento development has a series of improvements for search operations, checkouts, catalogs, cache management, etc. With better loading speed and smooth transitions, you are sure to get a better conversion rate once you make the switch. The upgrade supports PHP 8.1 to alleviate the performance of your website by almost 20% better than the 2.3 release.
8. Better PWA support
Getting better everywhere, the 2.4 version supports both the PWA studio 6.0.0 and 6.0.1 for a seamless PWA storefronts building. It has also added the support for Elasticsearch 716 and MySQL for a better experience. 
9. B2B Enhancements
It also includes seller-assisted features for shopping thus imparting a better B2B experience. With better B2B approvals and workflows, your notification features also get better with the 2.4 Magento. It has introduced GraphQL coverage to compliment the B2B efficiency enhanced with the upgrade.
10. Fixed Issues
The new version is rolled out with many fixed issues that were teasing you in the previous version. 
Email templates can be previewed by the admin.

Duplicate products do not lead to duplicate SEO data now.

After enabling the synchronization with backend configuration, checkouts become seamless and error-free.

Radio buttons are added for shipping methods in the checkout flows. 

Out-of-stock products in mini carts are informed to the customers through a message.

Users can now save Custom attribute values from the Admin.

A default watermark can be provided to a theme without any error. 

After password change, a new PHP session is used everytime.

PHP session ID is changed each time a customer logout and then again login.

The email field is no longer required while placing an order as used to be in previous versions.

png images can be easily uploaded and downloaded now.

Refunds for discounted products are calculated correctly now. 
What to Do?
Enough suggestions and reasons on why to switch as we think by now either you are convinced of the switch or you are no longer reading. So, for the former, here is what to do. Get yourself a professional Magento developer to take your eCommerce platform to the next level of efficiency. While hiring the developer make sure that the developer covers the following under their Magento development services:
Regular security patches:  Ensure that the developer gives the services with regular security patches as it will keep the security of the website up to date and free from the vulnerabilities that can pose threat to the website or customer's data. Being in the eCommerce business, you cannot compromise cyber safety.
Regular browser compatibility test: Ask your developer to keep testing the website compatibility with the latest releases of browsers. This will help in increased conversion rates and good standing at the search engine too.
SEO monitoring: It is of much importance to regularly keep the SEO monitored and in the best handling to ensure regular and valuable traffic. Your Magento 2.4 developer must be a connoisseur in SEO services as well.
Backing up of the website: Backups are necessary to deal with unwanted situations. Ensure that your developer gives a robust backup service for your website.
The switch from Magento 2.3 to 2.4.X is not just necessary but beneficial too and by now you must have understood it. So, if you were stubborn till now to not level up your store as per the latest Magento, it is high time to do that as you will not just fail to receive the support after September 2022, but you will also prevent your business from getting benefitted with the great upgrades in the latest version. 
So, happy switching!