How to Optimize the Magento Checkout Process for an Ecommerce store to convert more.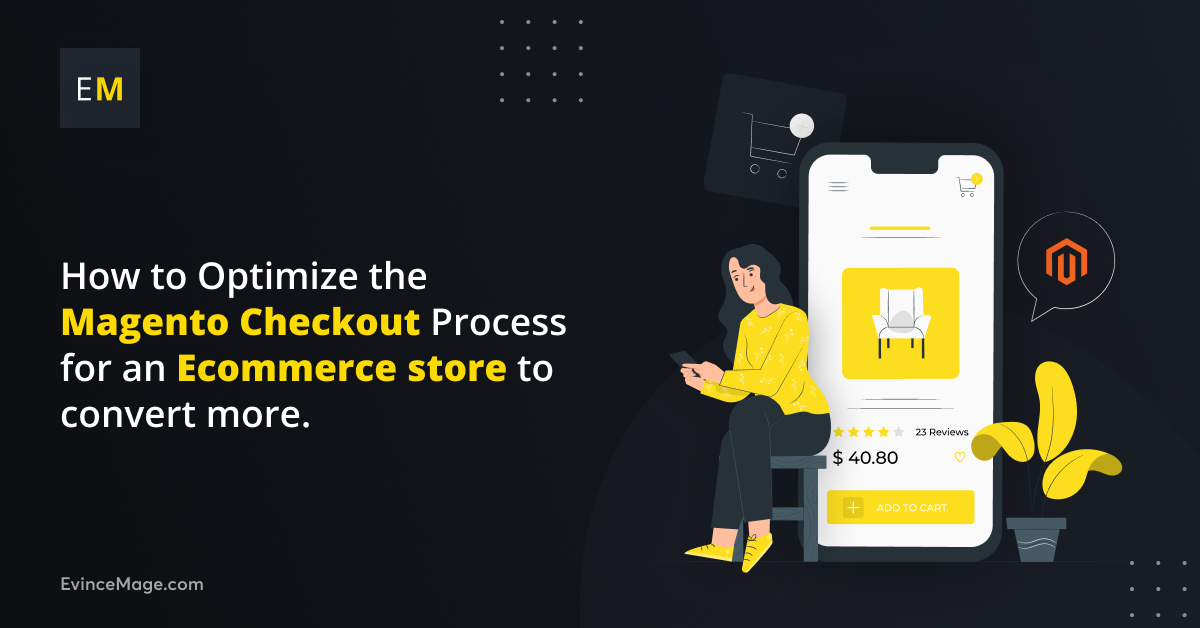 Ecommerce is one of the fastest-growing industries. In 2021, ecommerce accounts for 19.5% of global retail sales. The number is expected to increase to 95% by 2040.
However, cart abandonment is one of the biggest concerns for ecommerce business owners. The average online shopping cart abandonment rate is 69.80%. The top reasons for this are the site wanted to create an account (24%), a complicated checkout process (18%), and the website crashed (12%). In short, inconvenient checkout is the biggest reason for cart abandonment.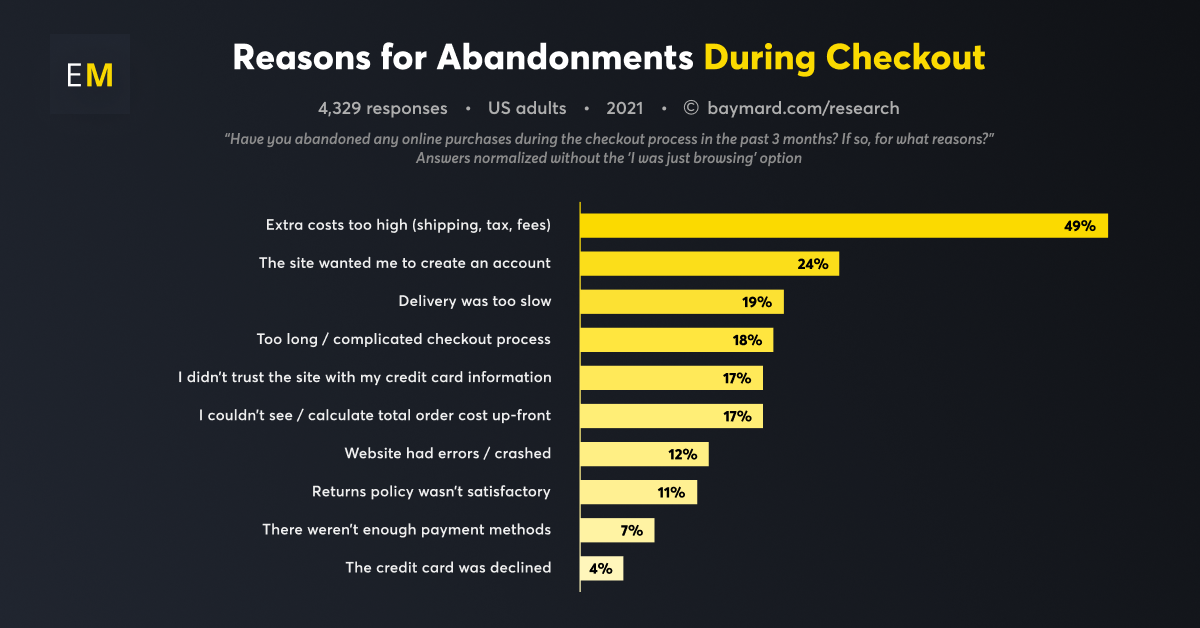 Here are some more statistics that highlight the importance of a seamless Magneto Ecommerce Platform checkout. 
Mobile users have a higher abandonment rate of 85.65%.

58% of people stop doing business with a company because of poor customer experience.

As of April 2021, the average ecommerce conversion rate across industries was 2.12%.

Ecommerce companies lose $18 billion in sales revenue each year because of cart abandonment.

Optimizing the checkout process can increase the conversion rate by 35.26%.

55% of shoppers will abandon the cart if they have to re-enter their credit card or shipping information.

39% of mobile users leave because of difficulty in entering their personal information.
In terms of ecommerce platforms, Magento powers around 12% of all online stores in the world. 
If you also use Magento to run your ecommerce business and want to reduce cart abandonment, this article is for you.
We will discuss how you can ensure a seamless checkout by using the right Magento checkout extensions. Let's get started!
Magento Extensions That'll Make the Checkout Process Effortless
While every site on Google talks about strategies, we will discuss the checkout extensions for Magento ecommerce that make the task easier.
1. Order Attachment
The e-pharma market is expected to grow at a CAGR of 14.85% between 2021 and 2028.
However, to fulfill pharmaceutical orders, it is crucial to check the documents before processing them. If not, you could invite fines and penalties depending on the state and federal laws in your region.
But, again, asking customers to send the documents over email could hurt the overall experience and reduce the chances of conversions.
That's where the Order Attachment plugin comes to the rescue!
One of the best Magento extensions, Order Attachment allows users to upload any memo or document with their order during the checkout process. They can upload multiple documents of different file types with ease.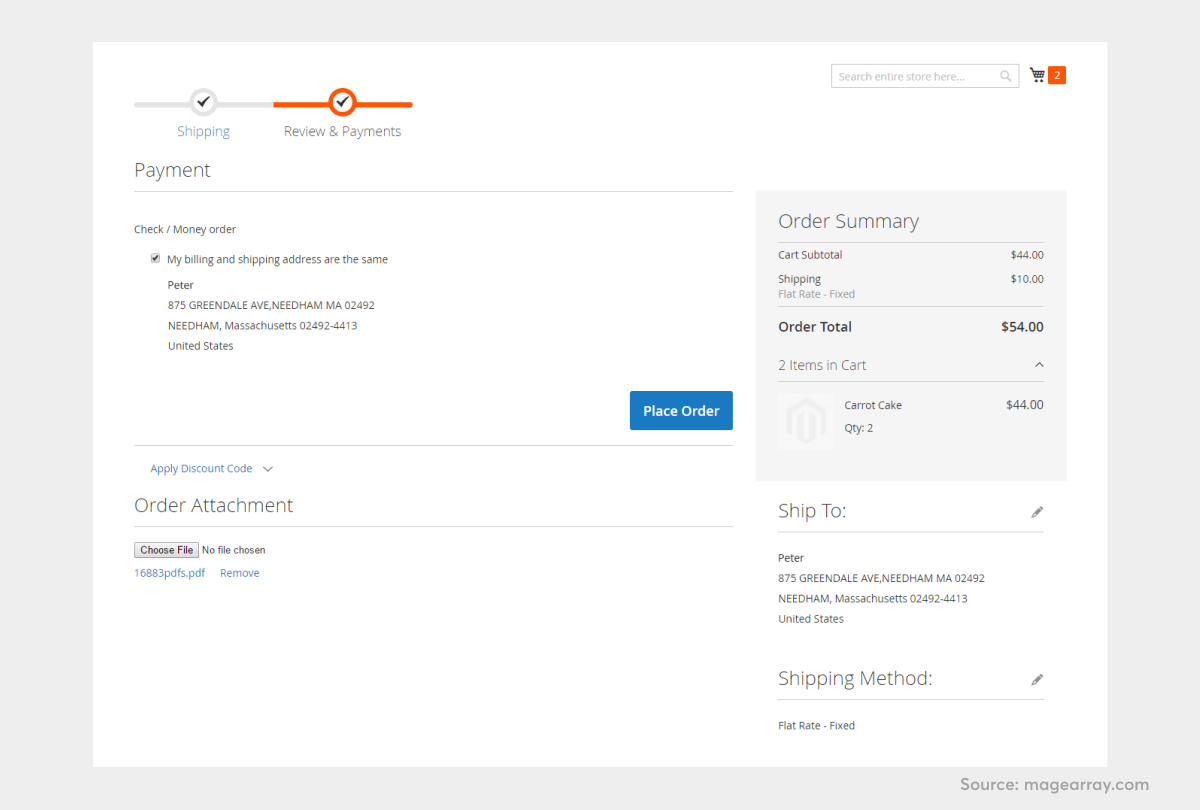 Once they've uploaded the documents, you can verify them and process/cancel the order depending on your business guidelines.
This is easier and convenient for customers than sending documents over email, then waiting for your confirmation to place the order, thereby increasing the chances of sales.
The plugin even allows you to decide the size of the file that can be uploaded. You can also delete it once the order is processed to save storage on your server.
2. Order Comment
Someone rightly said, "you can't improve what you don't know."
In order to ensure a seamless checkout experience, you need to know how your real customers feel while buying from you. That is where the Order Comment extension comes into the picture.
Order Comment Magento site extension allows customers to leave detailed comments during the checkout process. You can use their feedback to improve the buying experience for new users.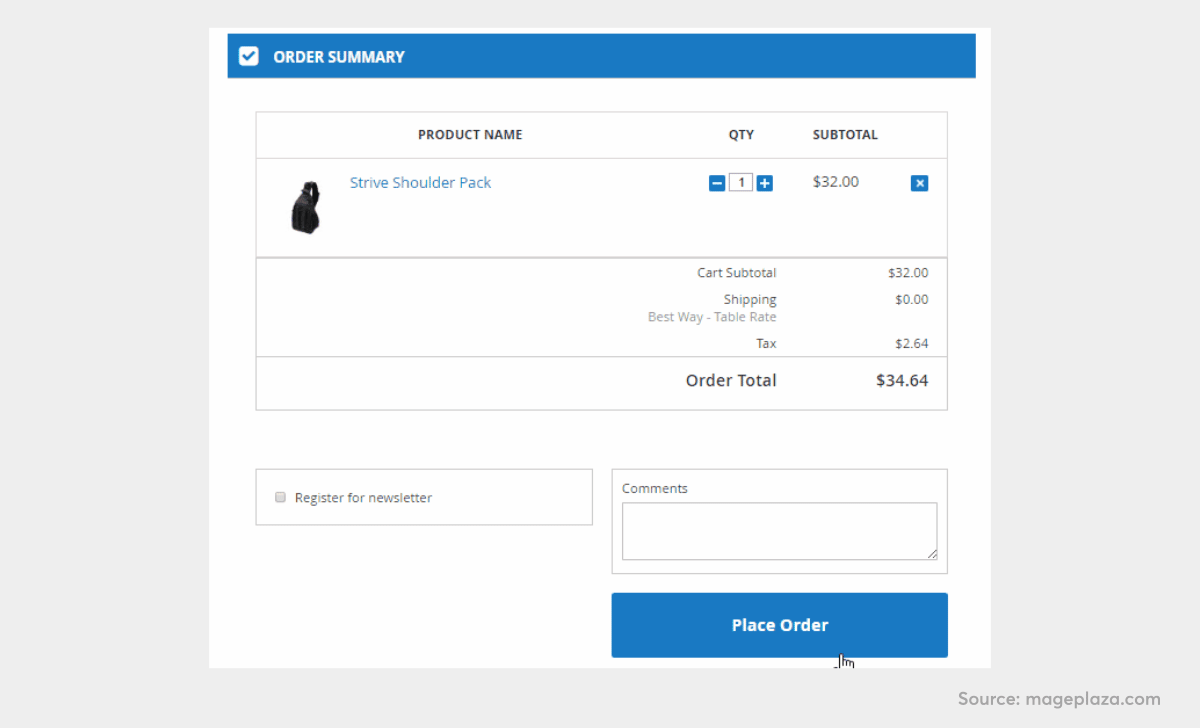 Customers can even add instructions or special requests when placing the order, such as "deliver the item to my neighbor" or "pack the item as a gift." 
This will enable you to serve your customers the way they want you to, thereby reducing the cart abandonment rate.
The best part about the Order Comment extension is that it doesn't require any manual configuration and can be installed in just a few clicks.
3. Order Delivery Slot
People with a tight schedule are more likely to order items online. This is because they can't physically buy anything because of time constraints, and it is important to serve them the way they want.
Order Delivery Slot extension allows customers to choose a convenient delivery date and time during checkout on your Magento store. This helps maximize the chances of sales and reduce cart abandonment.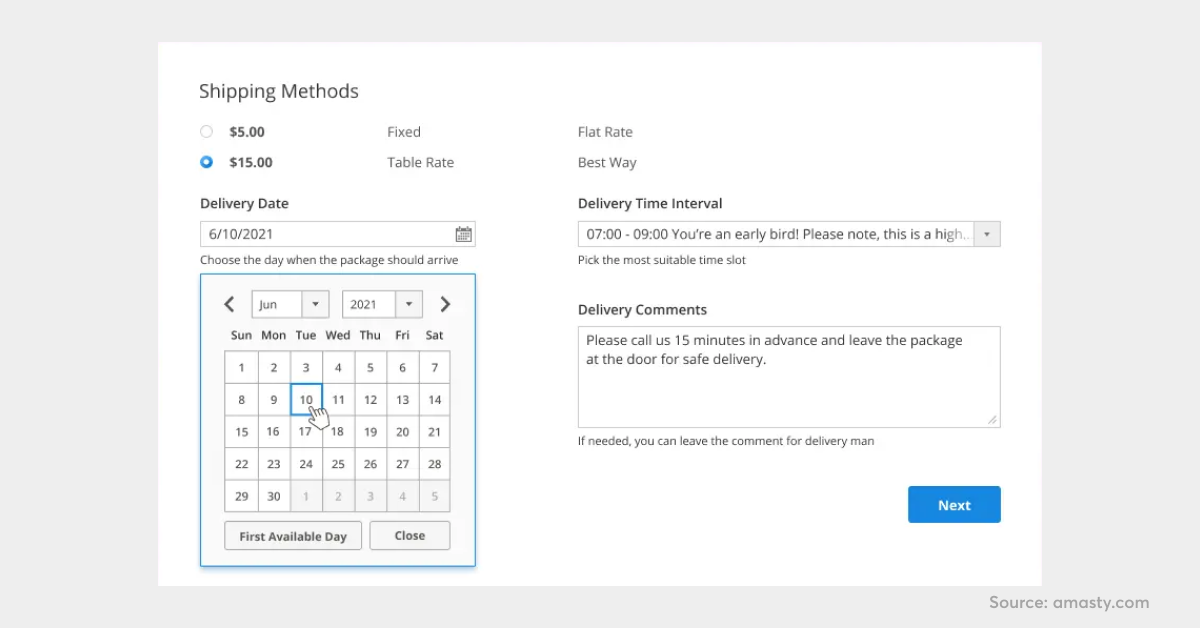 A flexible delivery schedule assures them that they'll receive the product when they want to and won't have to change their other plans (like going to the office or with friends).
You can choose to disable time slots on any day of the week. For instance, if your delivery partners are not working on Sunday evening, you can disable slots for that particular time to prevent last-minute hassles. You can also enable/disable delivery slots for specific products.
4. Auto Address
As mentioned above, 39% of mobile users abandon their cart because of difficulty entering their personal information.
You can reduce this number by installing the Auto Address Magento extension in your store. Based on Google Search Geo, the Auto Address plugin captures more accurate addresses easily. As soon as the customer starts entering their address, it shows suggestions (check the below).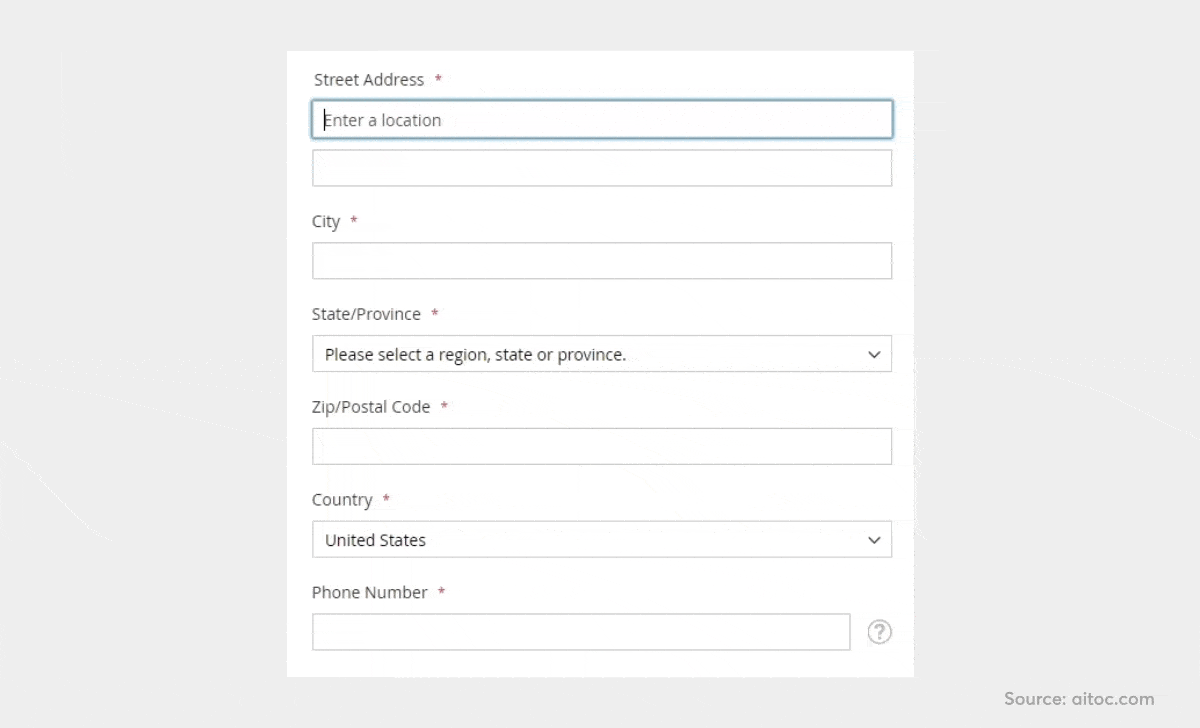 This saves customers time entering addresses and speeds the checkout process, thereby increasing the chances of conversions.
The Auto Address Magento extension also updates your database with accurate addresses to ensure your deliveries reach the right place on time.
5. Quick Order Magento Extension
The last best Magento extension on our list is Quick Order. Ideal for wholesales, the Quick Order Magento Extension provides a faster checkout process for bulk orders.
Retailers can find products with SKU (stock-keeping unit) numbers, speeding the checkout process. They can then select the product quantity and attributes (size, color, etc.).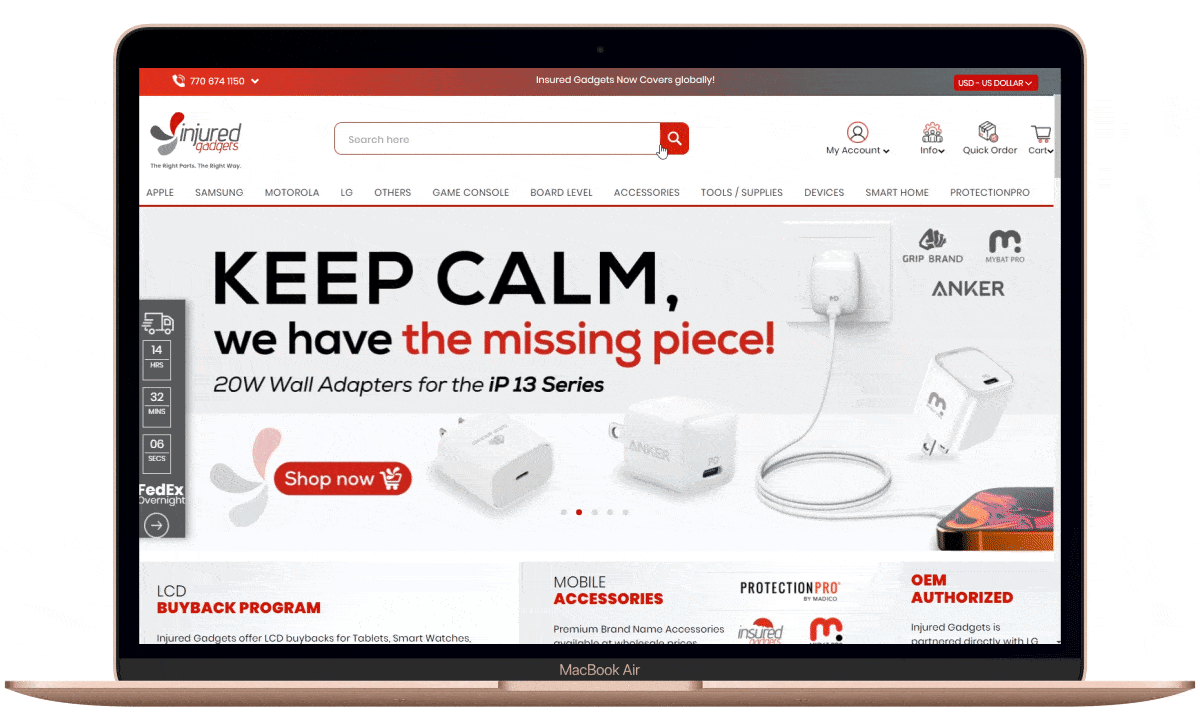 It also allows customers to edit product quantity & attributes and remove them in just one click (at the checkout page).
As an admin, you can set the maximum number of search results when searching with SKU and enable the extension for select consumer groups.
Wrapping Up
A seamless checkout experience is a must to increase the conversion rate. Magento Checkout extensions like order attachment, order comment, order delivery slot, auto address, and quick order can make it easier for you to provide the best buying experience.