How to Optimize Product Recommendation and Boost Ecommerce Sales?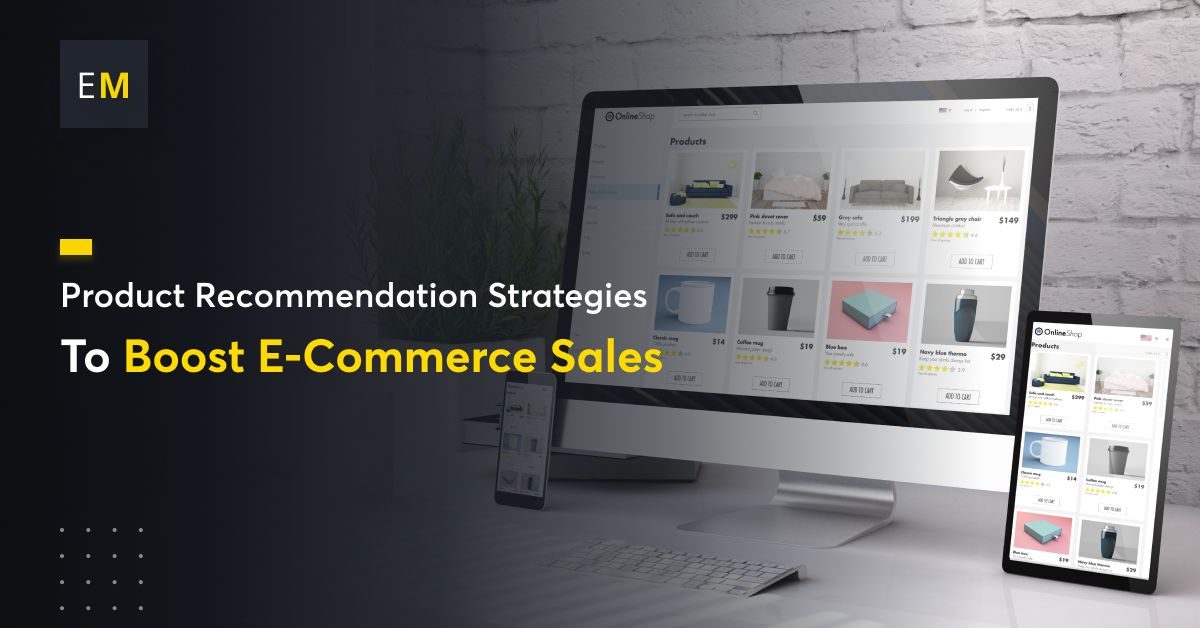 Intelligent product recommendations can increase the average order value (AOV) of your conversions and enhance the customer experience. Purchases where customers checked the recommendation saw a 10% higher AOV than where it wasn't clicked. 
Besides, 71% of customers feel frustrated with impersonal shopping experiences. On the other hand, 80% of people are more inclined to purchase from a company that provides tailored experiences. 
That said, let's look at how you can optimize product recommendations and increase ecommerce sales. 
1- Homepage Recommendation
Though the homepage is not always the first touchpoint for shoppers, it still plays a vital role in shaping the customer experience. Offering personalized product suggestions on your homepage can go a long way in boosting your profits and building a great impression.
For instance, in early 2015, Shop Direct, a UK-based multi-brand online retailer, personalized its homepage for every customer by creating 3.5 million versions. As a result, they saw a rise in profit by 43.6% in just 53 weeks. 
You need not create 3.5 million versions of your homepage to optimize product suggestions. Instead, you can do this:

Before you start freaking out, 
Let me tell you that you don't need to create 3.5 million versions of your homepage to optimize product suggestions. Instead, you can do this:
1.1 For new visitors: 
Providing product recommendations to new visitors can be challenging as you don't have any data about them. Here's what leading brands do and you can too: 
Showcase trending products 
When you don't know what a shopper is looking for, you can show them the new releases or best selling products online to encourage and learn more about them. For example, Sears, an American chain of department stores, displays best sellers beneath the offers and category section on the homepage.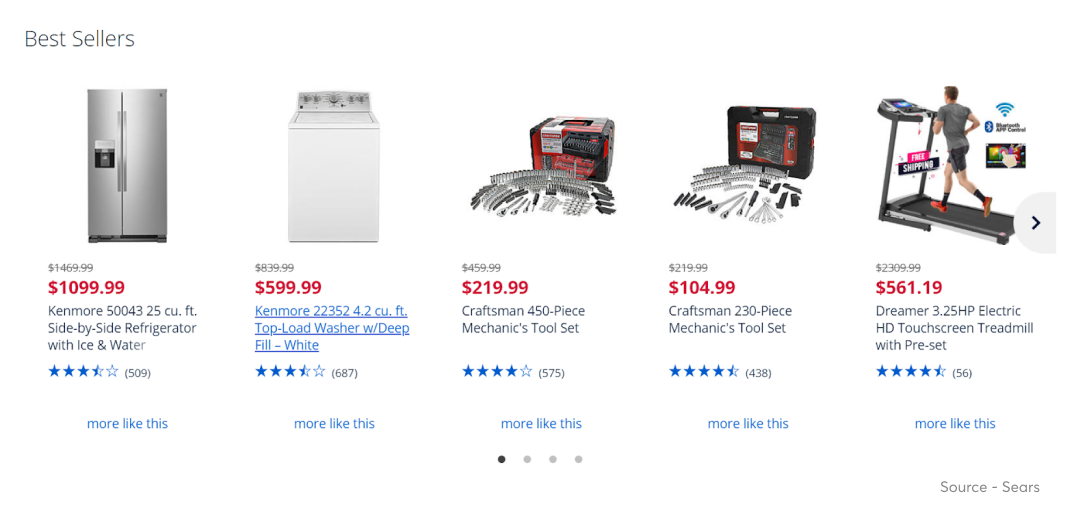 Ratings-based recommendations
Social proof can help attract customers and build trust with them. 79% of consumers say they trust online reviews as much as personal recommendations from friends or family. You can add a section just like HealthKart. They have a "trending now" section, and the products in it have star ratings. The words trending and now make customers feel that most people are buying them, and ratings help build trust.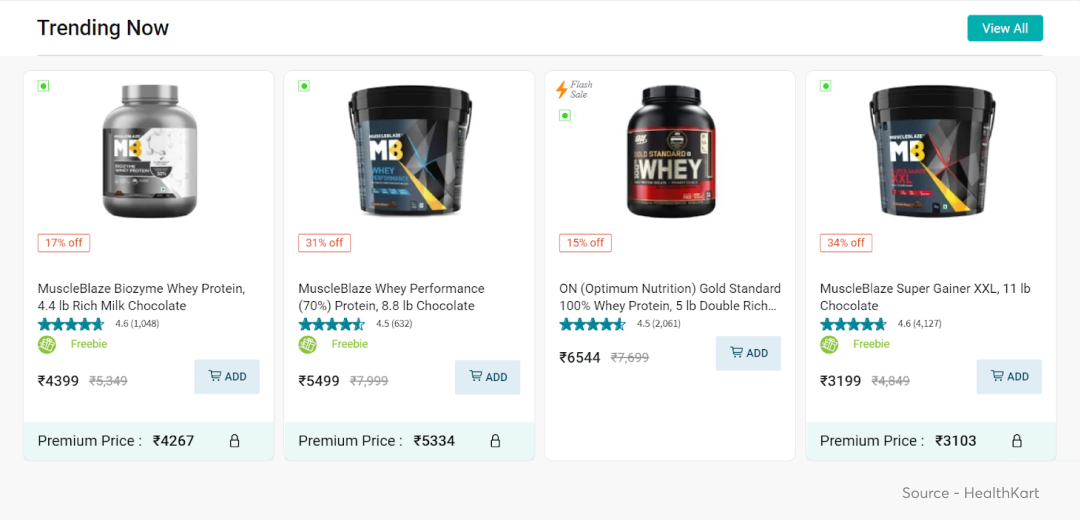 1.2 For Returning Visitors
You can use cookies to collect information about your visitors (like the products they view) that can help you personalize product recommendations when they return to your site. 
Related Items
If you know what items a user viewed on your site, you can create a related items category to encourage them to purchase the product they were earlier interested in. Here is how Amazon does it:

Products inspired by your shopping trends and wish list
If the customer has purchased items from you, use their shopping trends to recommend products. You can also leverage their wish list for product recommendations. Again Amazon tops our list of examples.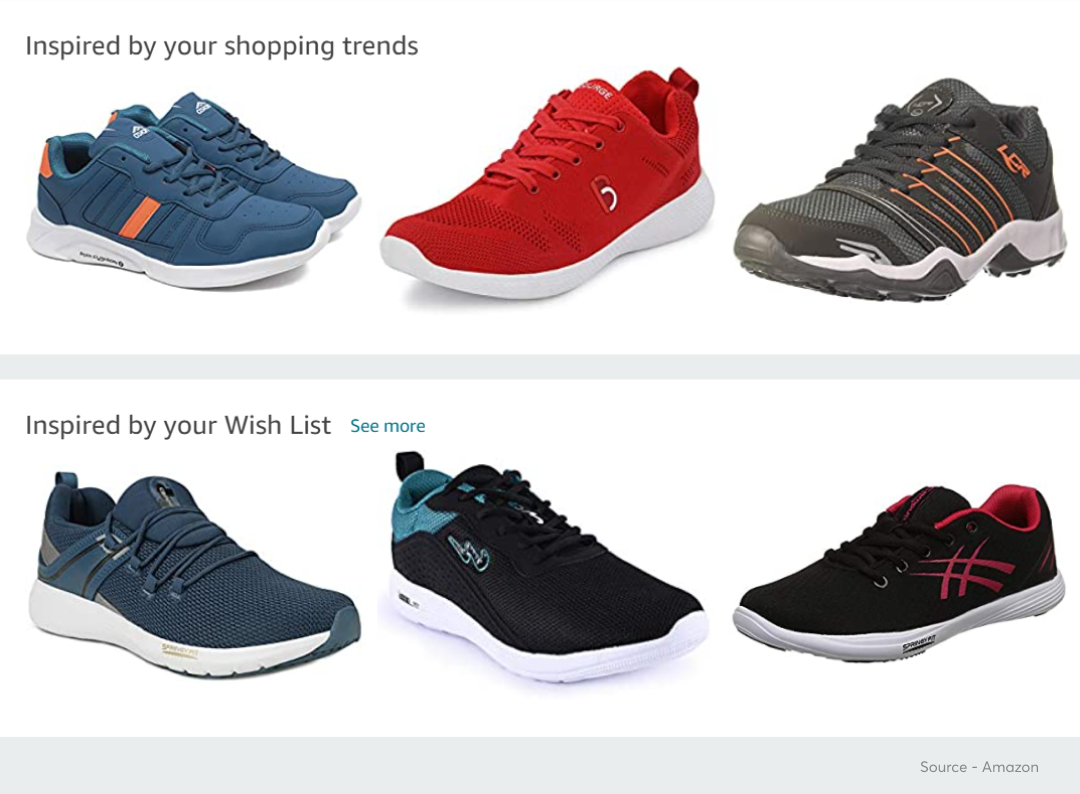 Personalized Navigation
Depending on the gender the user has selected the first time, you can automatically adjust the navigation to suit their needs. For example, ASOS, a British online fashion retailer, optimizes the navigation and shows products according to the visitors' interests. 
When you visit ASOS the first time, you will see a homepage like this: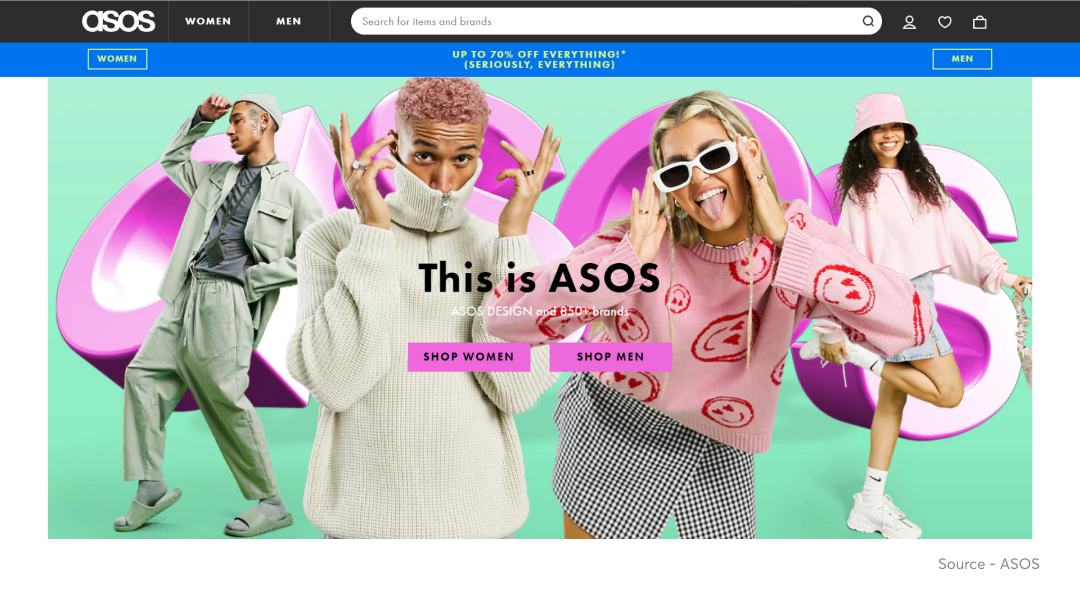 However, if you browse through any section (Women or Men), you will see this homepage (I window-shopped the Men section) on your next visit.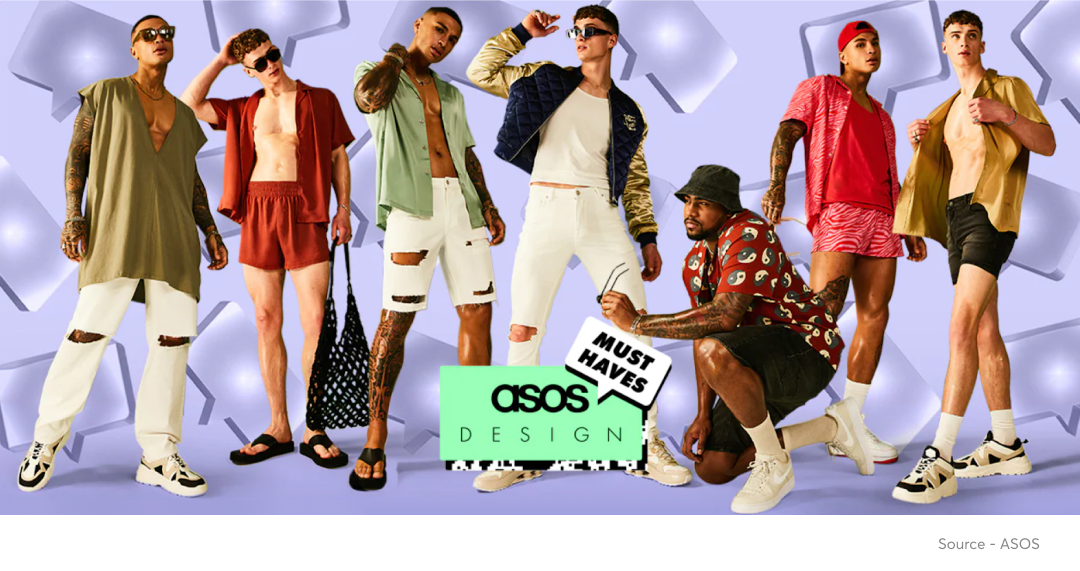 An AI-based ecommerce product recommendation engine can help you optimize your homepage and recommend items based on the users' browsing behavior in real-time. 
2- Category Recommendation
Category recommendation is all about showing product categories based on the customers' onsite search and online shopping behavior. This helps attract customers who are interested only in specific categories. Also, show any category-related offers to further encourage them to shop.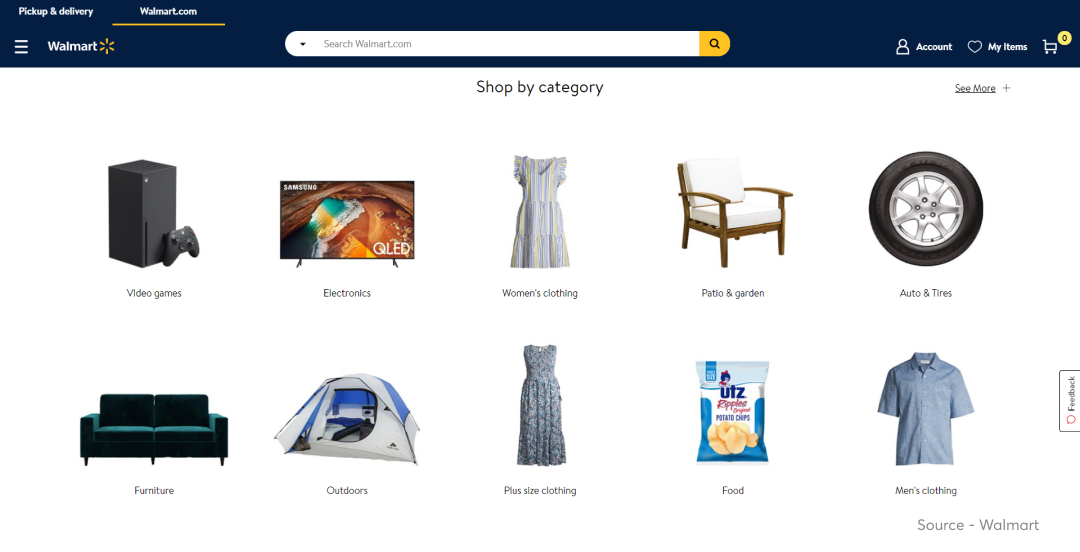 Walmart includes category suggestions on the top of its homepage.
However, if you sell only a few categories, you can recommend products based on the brand, just like Myntra does.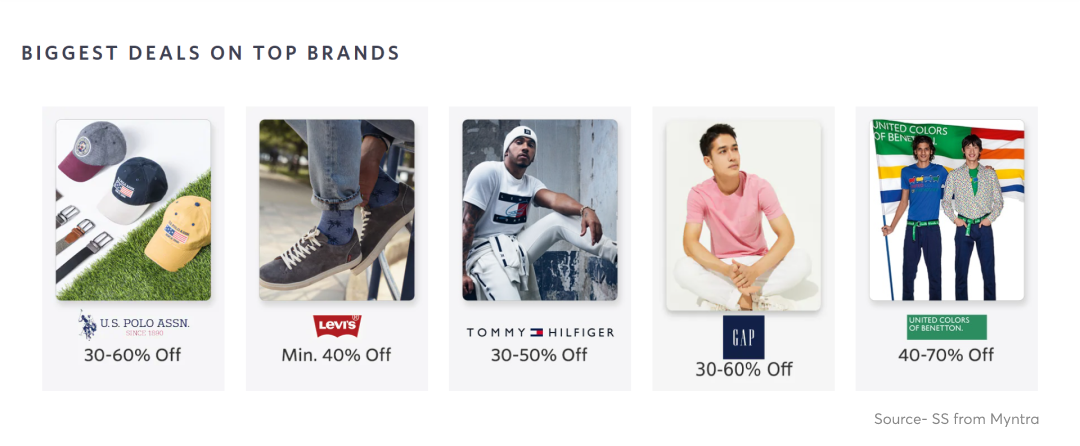 If you run your online store on Magento, you can use EvinceMage's Auto-Related Product Magento 2 Extension. It allows you to display products based on categories and attributes.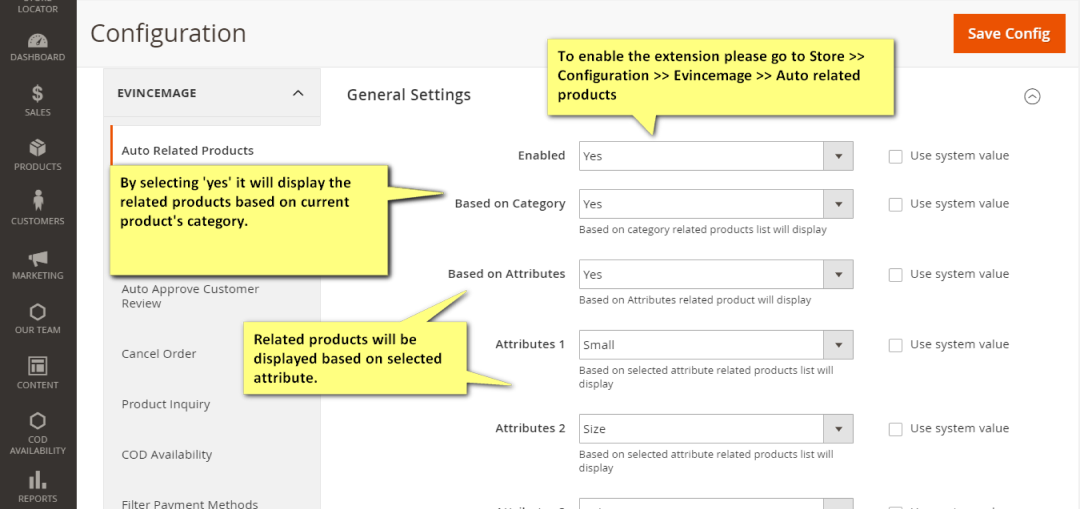 Use purchase history and browsing behavior to determine which brands/categories a customer is most interested in. Use the data to recommend products every time they visit your website. 
3- Shopping Cart Recommendation
Personalized recommendations during checkout allow you to cross-sell and upsell products. It also helps increase the average order value of your conversions. 
Display complementary items that go with the products the customer is purchasing. If you offer free delivery over a certain amount, help customers reach that minimum value with personalized recommendations, just like Myntra does.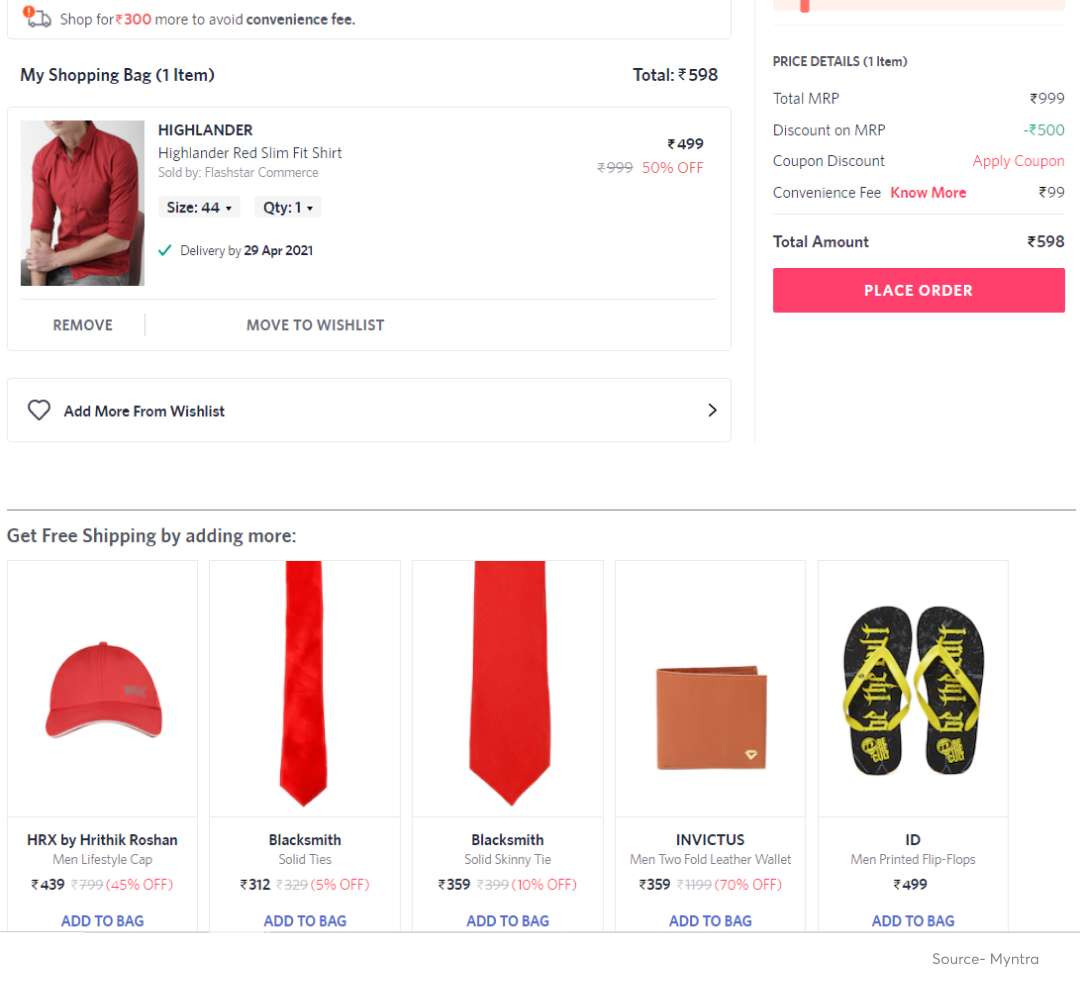 However, if the customer has already reached the minimum value, you can add a "you might also like" section, just like Sarah Raven.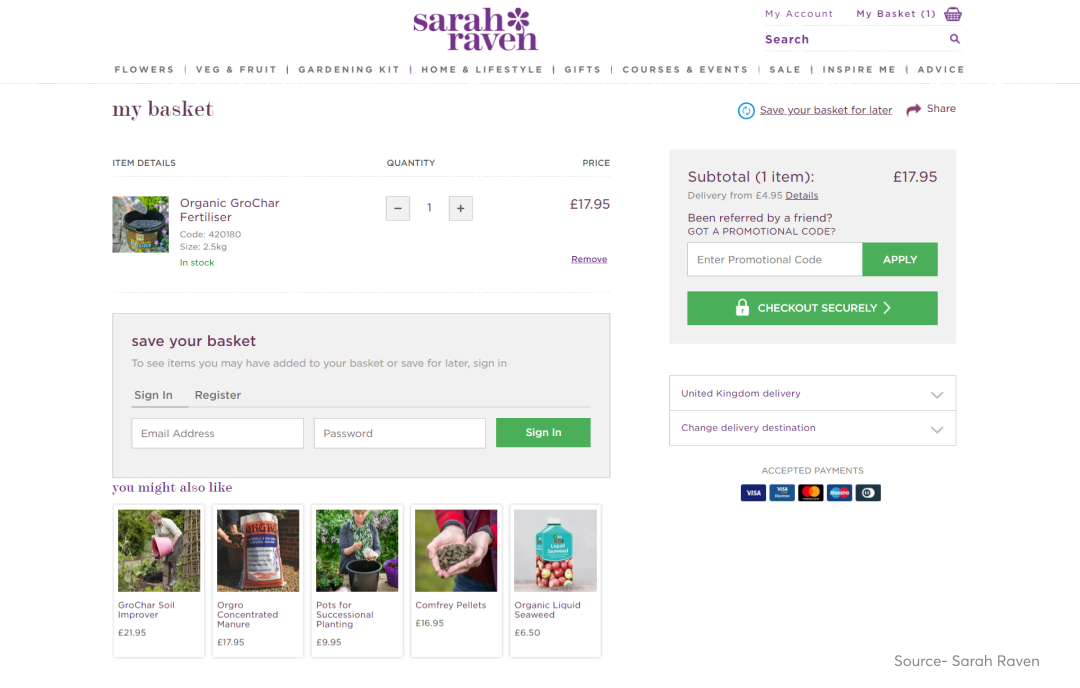 However, make sure that the recommendations complement the products in the cart. Poor recommendations can do more harm than good to your ecommerce store. 
4- Personalized Email Recommendation
Email is one of the best ways to reach customers directly and personalize their shopping experience. It also helps drive more sales even after visitors have left your site. 
You can send personalized product recommendations based on the users' interests and online shopping behavior. You can even offer exclusive discounts or use urgency to increase engagement and lead customers back to your site. 
You can set up automation to trigger personalized email recommendations when users do any of the following activities: 
View products

Browse through categories

Add item(s) in wishlist

Browse through your website regularly
Here is an example from Zee & Co, a UK-based fashion retailer. They send personalized product recommendations based on what the customer browsed on their site. They have also added a "customer favorites" section to showcase their best selling products online.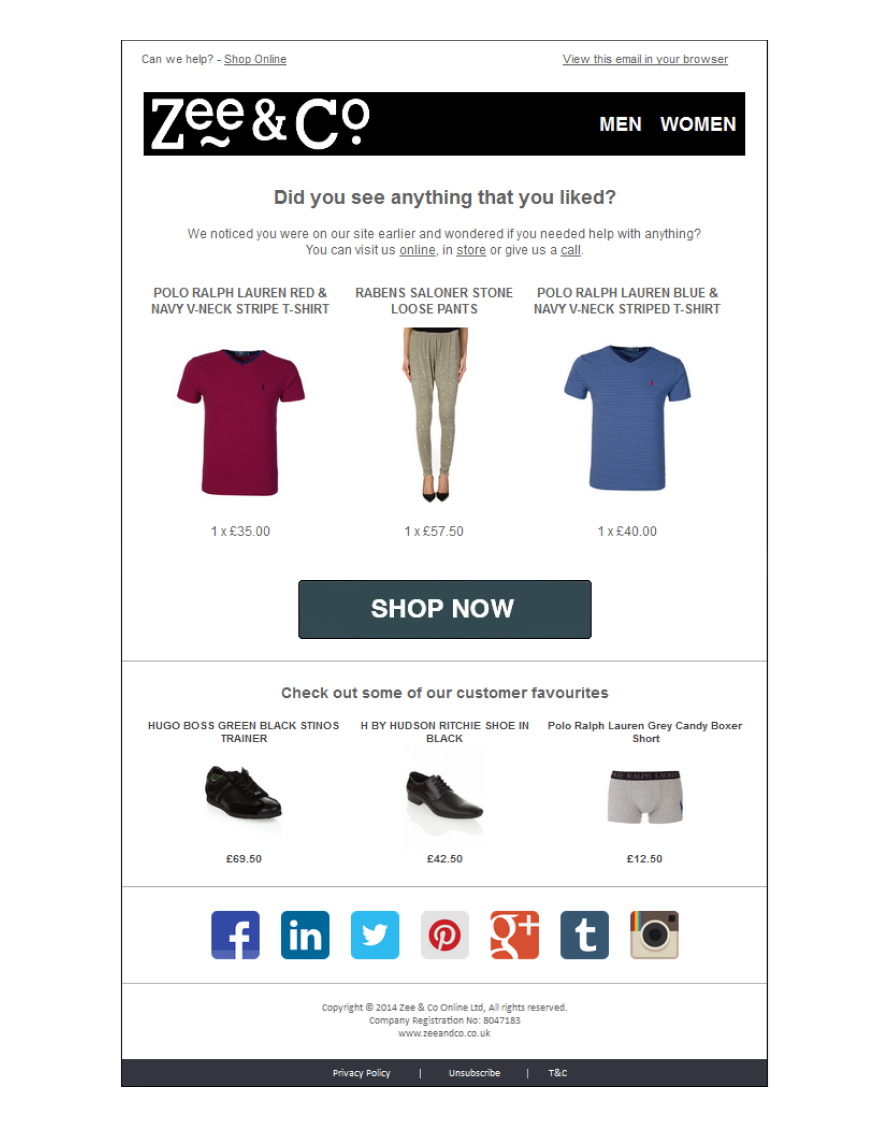 You can recommend the most popular items within the category to users who have entered a term on your search bar or browsed a specific category. Here is an example of how Calvin Klein does it. However, they could've made the email even better by reducing texts under each product to make it look a bit cleaner and attractive.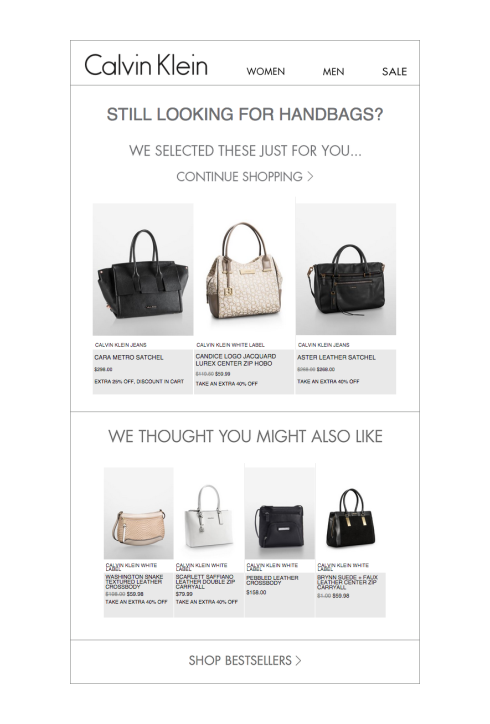 Email product recommendation best practices: 
Ensure your emails and product recommendations are optimized for all devices. 

Use large, high-quality images for each product to entice customers into clicking into them. 

Segment users based on their browsing behavior in real-time to ensure that your recommendations are relevant to your shoppers. 

Display at least three products in one email. 

Link each image that redirects users to the product page. 

Offer discounts to encourage customers to take action. 
Tip: Measure the performance of your email personalization campaigns and make the changes accordingly to get the most out of your efforts. 
5- Order Confirmed Recommendation
An effective way to increase sales is by recommending products in the order confirmation email. Confirmation emails have one of the highest engagement rates, with an average open rate of 65%, an average click-through rate of 17%, and an average order rate of 3.77%. 
One of the reasons behind such high engagement rates of confirmation emails is that it assures customers that their order has been successfully placed and provides their order details. It also enables them to double-check if they have ordered the right products and entered the correct delivery address. 
Here is an example from Etsy. The email has all the order details, such as confirmation number, product name, photo, quantity, price, shipping address, estimated shipping time, and return & exchange policies. In the end, there are product recommendations. They even encourage customers to shop again by providing free shipping in their next order. 
Here is another example of a brand recommending products in its confirmation emails. Dollar Shave Club recommends related items and encourages customers to buy them before they ship their actual order so they can receive all the products together. Their email is visually appealing, which can have a positive effect on customers. 
Conclusion
Recommending the right products can help boost ecommerce sales and enhance the overall customer experience. Also, people are more likely to return to your store if you show them the products they're the most interested in. 
However, it is also worth mentioning that 63% of consumers will stop buying from brands that use poor personalization tactics. If you use Magento, you can use Magento 2 auto-related products extension by Evince Mage to recommend the right products and increase ecommerce sales. Happy Personalization!