What Is the Difference Between Magento Migration and Upgradation?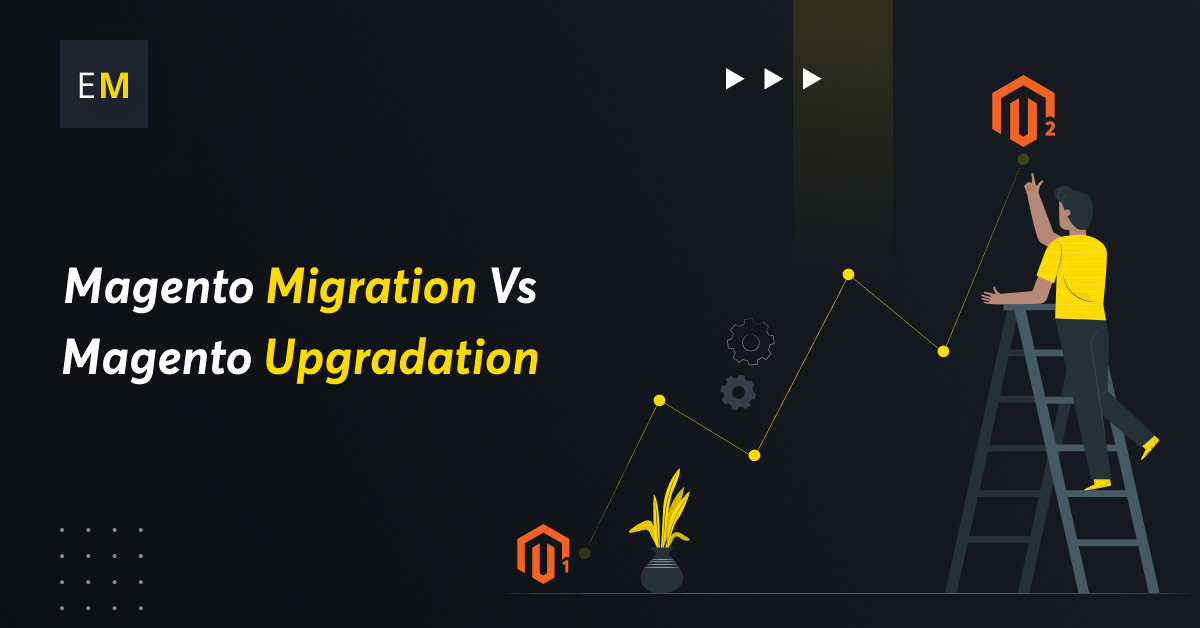 Magento is one of the most powerful ecommerce solutions out there. As of 2021, it powers over 0.7% of the internet (250,000 sites). 
In June 2020, Adobe ceased support for the Magento 1.x version, meaning websites using it won't get any support or updates. Even though thousands of merchants have migrated to Magento 2, there are still 64,506 live websites using Magento 1.9. 
While Magento ecommerce owners want to use the latest software, they are often confused if they should migrate their site or upgrade it. 
To make things easier for you, we will discuss the common confusion related to Magento migration and upgradation and the difference between them. We will also talk about when to upgrade and when to migrate your Magento store. Let's get started!
Common confusion among store owners related to Magento Migration and Magento upgradation
One of the biggest confusions among Magento store owners is if migration and upgradation are the same things. Many even use these terms interchangeably. However, that's not the case. 
Migration and upgradation are two different things, which we will discuss in the next section. Let's get going. 
Difference Between Magento Migration and Magento Upgradation
Magento migration refers to moving your older Magento 1.x store to Magento 2 or adopting Magento from another application. Magento 1 and 2 are two completely different platforms. They even have separate code bases and architecture. Therefore, moving from 1 to 2 is considered as migration.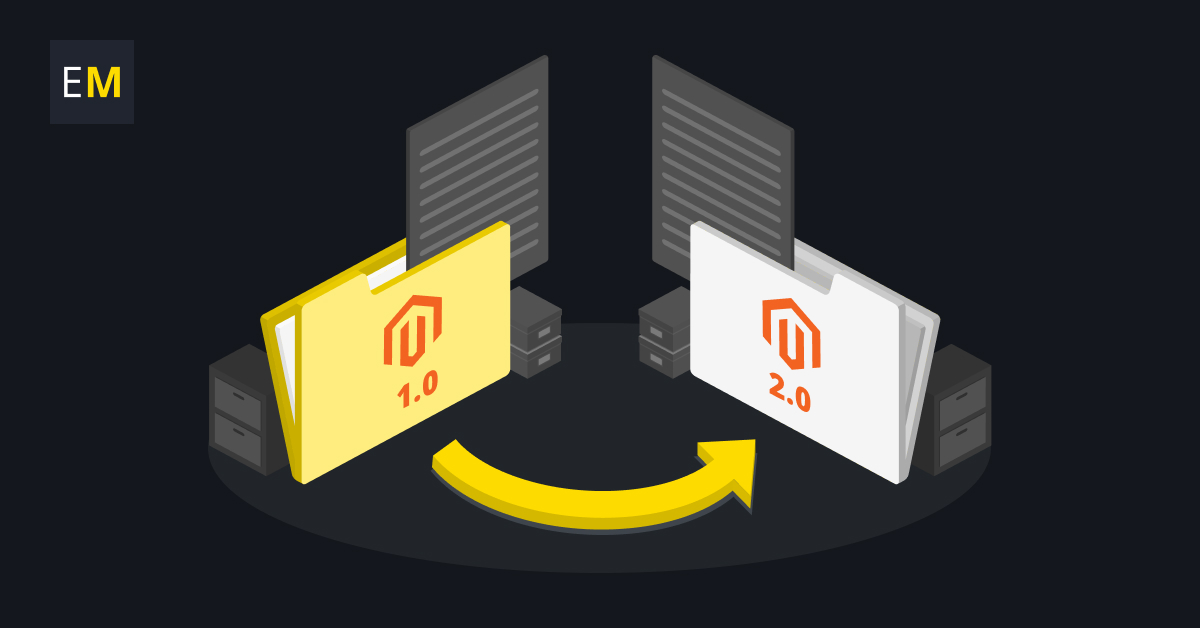 Magento upgradation refers to updating your current Magento 2 version to the latest Magento 2.x.x version. Magento upgradation is usually about updating your store's extensions, themes, and language packs. 
Another key difference between upgradation and migration is the time required. Migration is a time-consuming process (weeks to months) as you have to migrate all your data, customization, and third-party integrations to all new Magento 2. On the other hand, you can upgrade your Magento website within an hour or two. 
When to Upgrade Magento Version and When to Migrate?
If you are using the Magento 1.x version, you should migrate Magento 1 to Magento 2. However, if you have hosted your ecommerce store in Magento 2, you should upgrade to the Magento latest version, i.e., Magento 2.4.2.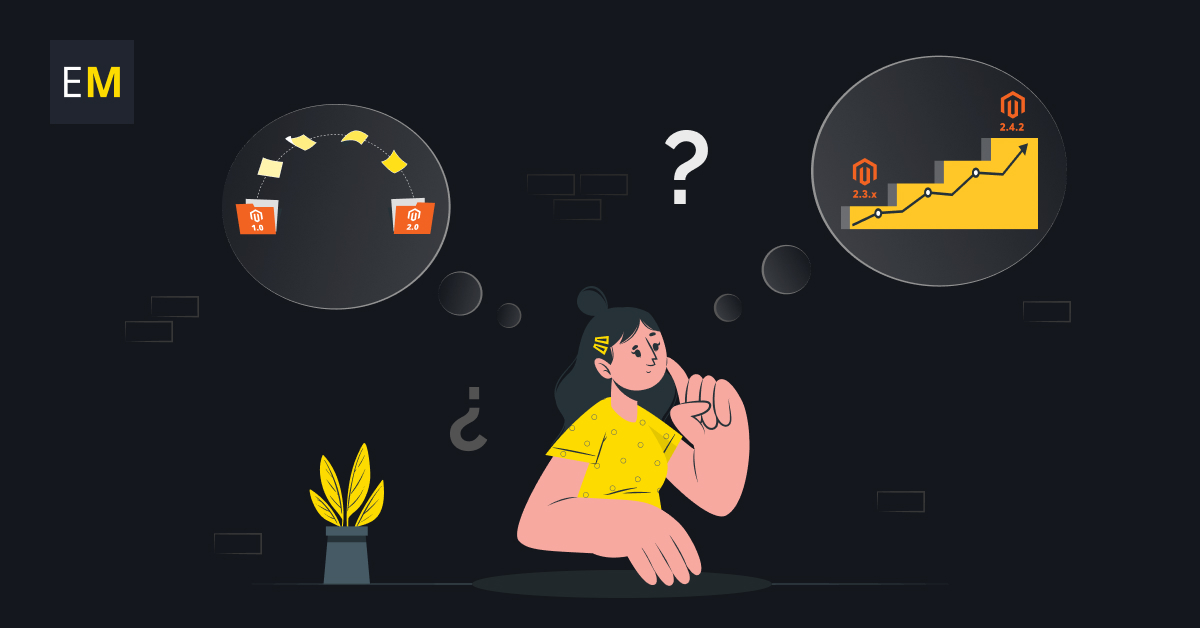 As mentioned above, migration is not only about moving your data. It is almost like creating your online store again, including developing your UI and UX. 
Upgradation, on the other hand, won't require you to migrate any of your data or integrate the third-party extensions from scratch. However, you will need some technical skills to upgrade the Magento version appropriately. 
Key Things to Know About Migrating to Magento 2
While many store owners are reluctant to migrate their Magento 1.x site to Magento 2, thinking that it will make no significant difference, they are all far from the truth. Compared to Magento 1, the new version offers a host of benefits that can benefit your business in the long run, such as:
On average, Magento 2 is 20% faster than the older version. 

It has an intuitive admin panel. Also, adding products is much easier now. 

Magento 2 has a highly customizable checkout process and requires fewer steps and customer information. Reducing the checkout time can have positive effects on your conversion rate. 

Integrating popular extensions like PayPal and Braintree just got easier. 

It is more secure than Magento 1.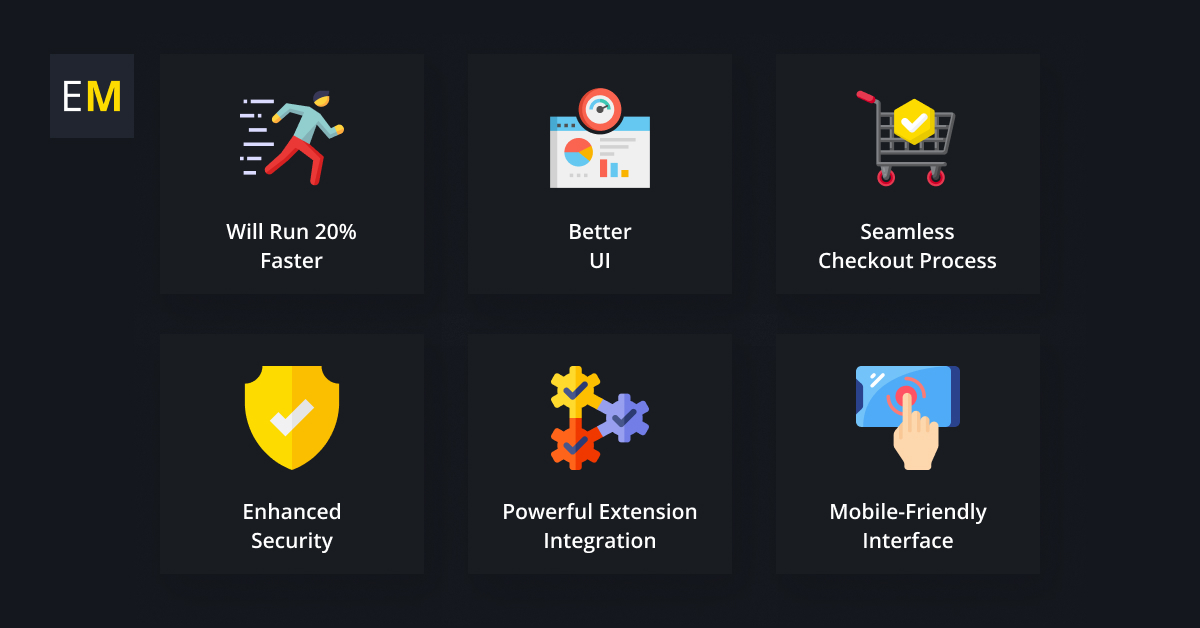 However, migrating from Magento 1 to Magento 2 requires technical expertise. We've seen business owners making frequent errors while migrating their stores. 
A step by step Magento migration includes: 
Catalog migration: It includes migrating all the product-related data, including products, categories, prices, and attributes. 
Customer data and order data migration: You can use Magento 2 Data Migration Tool to securely move your customer and order data to the new version. However, it isn't as simple as exporting and importing a CSV list. Therefore, we recommend consulting a Magento expert to prevent the loss of sensitive data. 
Any third-party extension migration: The next step is to migrate any third-party extensions that you have been using. The good news is Magento 2 already supports the majority of third-party tools. Make sure to check Magento marketplace to check if your preferred extensions are available. 
Custom functionality migration: If you have added custom functionality in your Magento 1 store, make sure to migrate them as well. However, you might need to modify the code. 
SEO migration: Review your category & CMS page descriptions, URLs, H1s, title tags, Alt Text tags, and meta descriptions. It is also recommended to keep your primary domain name (URL) the same to maintain your SEO. 
Key Benefits of Magento Upgradation
Just like Magento Migration, upgradation can benefit your business. For instance, each time you update your Magento website, you get:
Security improvement: Ecommerce sites are lucrative for hackers as they have sensitive personal information of thousands of people (like credit card numbers). Each time Magento releases an update (be it a minor one or a patch), it usually contains security fixes. Upgradation helps you ensure your data is always protected. 
Performance improvement: With every release, Magento strives to enhance the performance of the platform. For instance, with the recent version of Magento, i.e., Magento 2.4.2, they have introduced code enhancements to boost the performance of Magento's API and the admin response time for large stores. 
New features and functionality are added regularly: Ecommerce is an ever-evolving industry. To keep up with the customers' expectations and stay at the forefront of innovation, Magento introduces new features and functionalities to help online store owners grow their business. 
Conclusion
Magento migration and upgradation both are essential. Migration is essential because Adobe has discontinued Magento 1, so you won't receive any support or updates irrespective of if you have Community or Enterprise edition. This means you will be losing a lot in the long run by not upgrading to Magento 2. 
Upgradation, on the other hand, helps improve your store's security, boosts performance, and offers you new features to grow your business. 
If you don't have the necessary technical skills or the time to migrate or upgrade your Magento store, EvinceMage can do it for you. We have been doing Magento upgrades and migration for years now. Let us know your requirements, and we will offer a customized solution!