Average Order Value: A Strategy That Will Boost Your eCommerce Revenue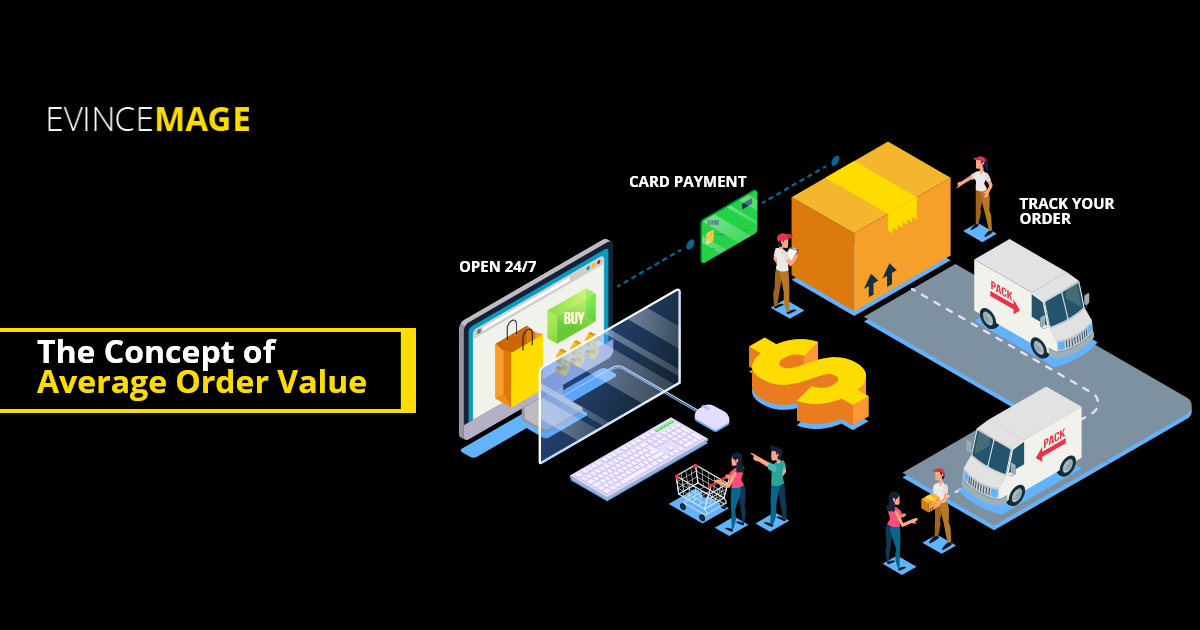 Increasing the conversion rate is what all eCommerce business owners look for. From running paid campaigns to trying various marketing strategies, eCommerce business owners leave no stone unturned to boost their eCommerce revenue.
A very common misconception that most of the eCommerce business owners have is that attracting new customers to their business is the only way to increase revenue. While attracting new customers is a bonus, one of the most effective ways to increase the revenue is by providing premium services to your existing customers. The success rate in implementing this strategy is higher when compared to acquiring new customers. This is because you have already have developed a trusted relationship with your existing customers and hence they buy the value your business provides. Here, the metric that comes into play is called Average Order Value abbreviated as AOV.

Don't know what we are talking about?
Got no idea what Average Order Value is or how to calculate it?
In this guide, we'll be going through all the aspects of Average Order Value and how it will help in boosting up the revenue of your eCommerce business.
Firstly, what Is Average Order Value (AOV)?
We all know that measuring the performance of the business is very important to analyze what strategies and plans can help to grow. In the same, Average Order Value is an essential metric for the performance of your eCommerce website or the store. Knowing AOV not only helps with improving the marketing strategies but it also helps with your pricing strategies as well.
So, what exactly is AOV? Average Order Value is the average amount spent by the buyer per order over a defined period.

How To Calculate Average Order Value?
Calculating the AOV is not like solving a complex mathematical sum, it's quite simple. To calculate the average order value, simply divide total revenue (over a certain period) by the number of orders.
For example,
Let's say that in September, your store's sales revenue was $31,000 and you had a total of 1,000 orders. $31,000 divided by 1,000 = $31, so September's monthly AOV was $31.

Why does Average Order Value matters?
Although AOV does not influence the profit margins, it does offer insights into customer's buying patterns and trends. Calculating AOV also enables eCommerce businesses to improve the store layout and even product pricing. Also when tracked on a weekly or daily basis, AOV can help the business to understand the impact of the advertising campaigns, new product launches, and also seasonal sales.
The increase in AOV means that the ROI has increased for the same amount you spent on acquiring the customer. And this is why AOV is considered as one of the most important key performance indicators for the online and offline sales for a business.

How to improve AOV?
Now that you have known what AOV is, how to calculate it and why it is so important in the eCommerce business, let's have a look at the techniques on how to improve AOV so that it improves the overall performance of your business.
1. Product Combos
You may have seen websites selling product combos. This is one of the best ways to increase the value of the purchase (i.e AOV). In this technique, rather than selling products separately, brands create combo packs consisting of 3-4 items and offer a volume discount to the customers.  For example, "Save up to 45% off by purchasing 3 or more t-shirts."
2. Customer Segmentation
In this technique, businesses segment their customers on their purchase behavior. This means that based on their purchase history, businesses divide the customers into groups, such as low, average and high spenders.
They then build up their marketing strategies accordingly and draft messages specifically for each customer group. For example, messages for rewards and loyalty points can be sent to high spenders whereas for low spenders they can be targeted with coupons and various sales options.
3. Setting A Minimum For Free Delivery
A report by Baymard states that 60% of consumers will choose to abandon their shopping carts during the checkout process due to the high shipping costs. This does not mean that your business has to pay for the delivery charges. You have two options to deal with this.
You can include those shipping charges in the cost of your products and give free delivery to your buyers.

Set a minimum purchase amount for free shipping eligibility, this will also help in increasing the AOV.  For example, "Shop for over $50 and get your parcel delivered for free!"
4. Auto-Related Products
This is the technique that guarantees to benefit, no matter what the industry is. And if you aren't using this technique, you are missing out the golden chance to boost your eCommerce business revenue.
This technique consists of two concepts i.e. cross-selling & up-selling. These two concepts are very often mixed up by businesses. While these two concepts are similar, they are not the same.  They are different techniques with the same goal i.e increasing AOV. Here is how they are different:
5. Cross-Selling
Cross-selling is when you encourage your customer to buy another item in the conjunction of the primary product. This can be done by recommending the related products to the primary one before the payment process happens. For example, recommending a t-shirt or shoes to match with a pair of jeans that the customer added to the shopping cart.
6. Up-Selling
Up-selling is the technique of selling the more expensive version of the product (having superior quality) or the same product with an add-on feature that is expensive from than that of the customer has already purchased.
For example, recommending the user to buy a branded t-shirt when the customer is surfing for t-shirts in other small brands. Here is another example, recommending to buy a camera which comes with the battery when the customer is shopping only for a camera.
One thing that should be kept in mind while implementing this technique is that this should help the customers in making a quick and better decision. The forced auto-related products can lead to customers abandoning your services/products.

Apart from that, using the auto-related products technique is considered as one of the best ways of boosting the revenue for eCommerce stores. Especially when it comes to eCommerce businesses who have built their website on Magento,  they use related products Magento extension to implement this technique on their website to boost up their revenue by increasing Average Order Value.
Especially when it comes to Magento powered eCommerce stores, Auto-Related Product Magento 2 Extension can be utilized to implement this strategy to boost up revenue by increasing average order value.
This extension when installed on Magento eCommerce store, help the customers by showcasing the related or addon products on your website. This allows the buyer to find related products and hence ease the shopping experience. This will not only increase the number of products that are being bought, but it will also increase the average order value.
Apart from providing a seamless user experience to your buyers, here are the features that the eCommerce business owners will get access to after installing the related products Magento 2 extension on their website.
Displays the related items to the customers.

It offers additional upselling products in your cart.

Displays the products based on the categories and attributes.

Fit perfectly for all mobile devices as well.

Provides multiple attributes to control the recommendations individually.

Can filter the related products by price.

Can count the related products.

Can sort the products to be displayed.

Can be easily integrated with the custom theme.
To wrap it up, increasing AOV is among the best ways to increase the revenue generation for your eCommerce business.  Along with that, the techniques mentioned here when used with customer management strategies can highly influence in strengthening the customer relationship unlocking revenue opportunities and growing your business.