How much will it cost for Magento Store Development in 2021?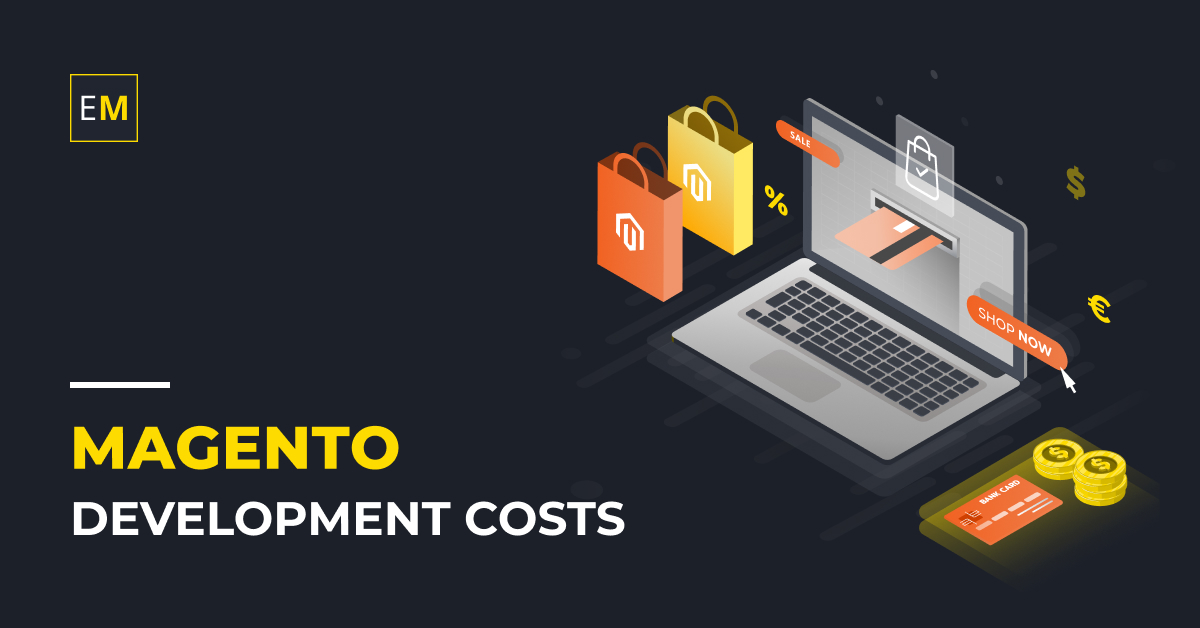 Magento is a feature-rich eCommerce platform solution that lets merchants have complete flexibility and control over their channel. Its powerful search engine optimization support, catalog management, and other powerful marketing tools let merchants create an exceptional shopping experience for their customers.
The Magento development services at Evince Development offers tailor-made solutions along with third-party plug-ins and extensive support for ultimate flexibility and scalability.
Popularity of Magento
Any app developer would know the ever-growing popularity of the Magento. There is an increasing demand for Magento among eCommerce developers since its inception in 2008.
Below are the Magento statistics of 2020 that are meant to familiarize you with the feature-rich attributes of Magento. The data will reveal the important factors like global usage and growth in popularity of this platform.
Magento Usage Data of 2020
Introduction to Magento Editions (Features & Benefits)
Magento provides two distinct platforms: Magento Open Source (previously known as Magento Community Edition) which is free of cost and Magento Commerce (previously known as Magento Enterprise Edition)which charges a yearly license cost. Each model is a suitable choice for small to medium and even large scale online business.
Magento Open Source
If you're someone with a small business set-up, then you should go for the Magento Open Source. Small business vendors and individuals prefer the basic Magento model because it gets them started with reasonably low investment. Additionally, the Magento Open Source has features that are essential for seamless online business operations.Magento Open Source, formerly known as Community Edition, is an open-source eCommerce platform, and it is free of charge. Anyone can get a program code, and it is open for editing. Magento Open Source is a perfect solution for small to medium-scale businesses. All you need to do is just download the source code, and you can immediately start working with it. Users can make customizations as per business requirements.
Usually, small to medium-scale entrepreneurs opt for the Magento Open Source edition with customized add-on themes and extensions to suit their requirements. This gives them the flexibility to have features and functionalities of their choice at a relatively low development cost.
Magento Open Source Features
Marketing, Promotions and Conversions Tool

Search Engine Optimization

Site Management

Catalog Management

Product Browsing

Catalog Browsing

Order Management

Checkout, Payment, and Shipping

Order Management

Customer Account

Customer Service

Analytics and Reporting

International Support

Mobile Commerce
Magento Commerce
If you're someone with a medium to large-scale business looking to boost the online presence of your store, then Magento Commerce would be a great option.

Magento Commerce is a paid version with premium features. It perfectly blends with medium to large scale online businesses. The premium features offer scalability and more customizable options to the online store.
Magento Commerce Features
Page Builder and Content Staging

Customer Segmentation and Personalization

Dynamic Rule-Based Product Relations

Instant Purchase

Visual Merchandising

Powerful Business Intelligence Capabilities

Responsive Design Themes

Progressive Web Applications

Integrated B2B Functionality

Inventory Management

Powerful Admin Experience

Technical and Account Support

Cloud Infrastructure

Promotion and Pricing

Site Management

Content Management

Search Engine Optimization

PWA Studio

Catalog Management

Sales and Ad Channels

Product Browsing

Catalog Browsing

Checkout

Order Management & Customer Service

Customer Loyalty

Customer Accounts

Support for Global Site

Integrated B2B Functionality

Headless Commerce Architecture
If you are looking for a Magento Commerce solution, the following table will tell you the cost of Magento store in 2021.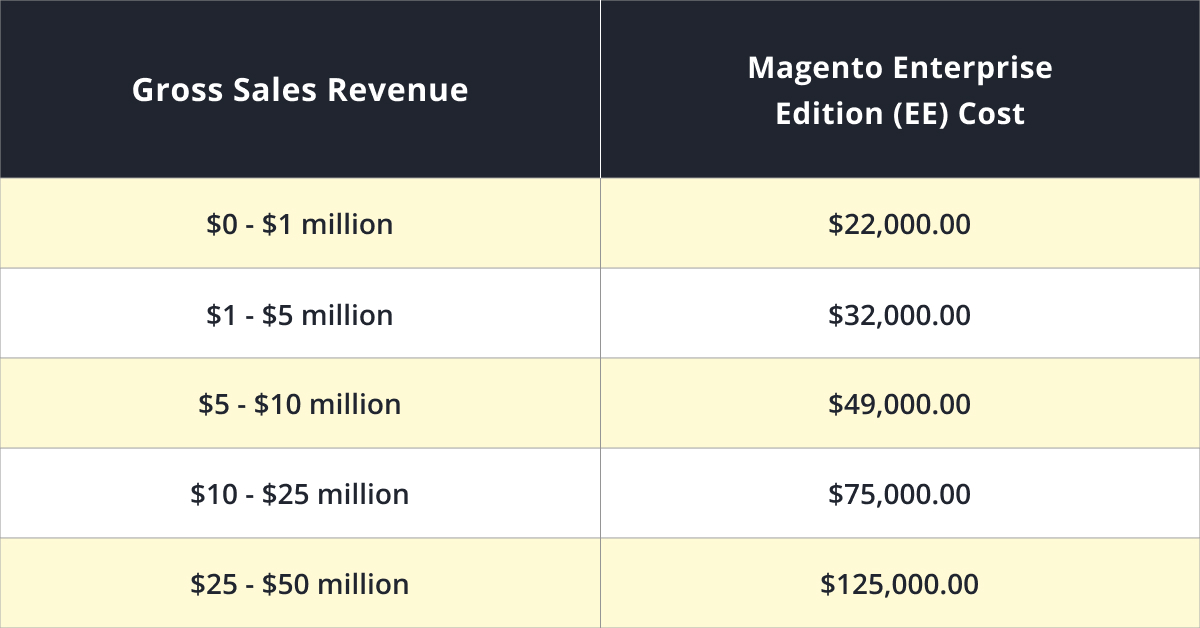 Source
Essential Elements that Affect the Price of Magento
Apart from the Magento editions, you choose to start your eCommerce store, some of the other elements vary the cost of the Magento website.
Web Hosting Cost

Hourly Development Cost

Extensions

Theme

Client Support

Most of them have been explained as follows:
1. Web Hosting
For both Magento Open Source and Magento Commerce, dedicated hosting is required.
It means your server resources won't be shared with any other websites. Dedicated hosting enhances the performance of your store and gives you full liberty to optimize your website.
2. Extension
Magento Extension allows you to add new functionality to your Magento store. Some predefined extensions available are free of cost, while others cost a few dollars. You can also use customized extensions to suit the feature requirement. However, before buying any extension, it is essential to verify whether it is compatible with your Magento version. The price and quality of extension differ from agency to agency. A poorly coded extension could create glitches in the performance of your store.
Some of the best EvinceMage Magento Extensions are as follows:
3. Hourly Rate to Develop Magento Store
The cost of store development varies from country to country and on the experience level of the developer. Generally, developers from Asian countries would approximately charge $20-$25 per hour, whereas developers from European countries would charge roughly $30-$40 per hour. In North American countries, developers are paid approximately $80-$120 per hour for Magento store development. Additionally, few agencies or freelance developers charge different prices for Magento Open Source and Magento Commerce's development. 
On average, an experienced Magento developer would take approximately 240 hours for readymade theme store development, whereas, for custom theme development, a developer would take around 400 hours. However, the number of hours hugely depends on the level of customization.
In Takeaway
Magento fits the pocket of almost every retailer with multiple pricing options, both small to large scale. The cost of store development entirely depends on client requirements and business type. Magento eCommerce store can be expensive or affordable, depending on factors like:
Hosting option

Customized Theme

Additional Features

Hourly rate to develop Magento store depending on the country
Evince Development offers comprehensive Magento development services to get you started with your online business journey. Our committed Magento specialists are always available for consultation and queries.
Get ready to launch your website – Drop us a mail.