How To Boost eCommerce Sales With Social Media?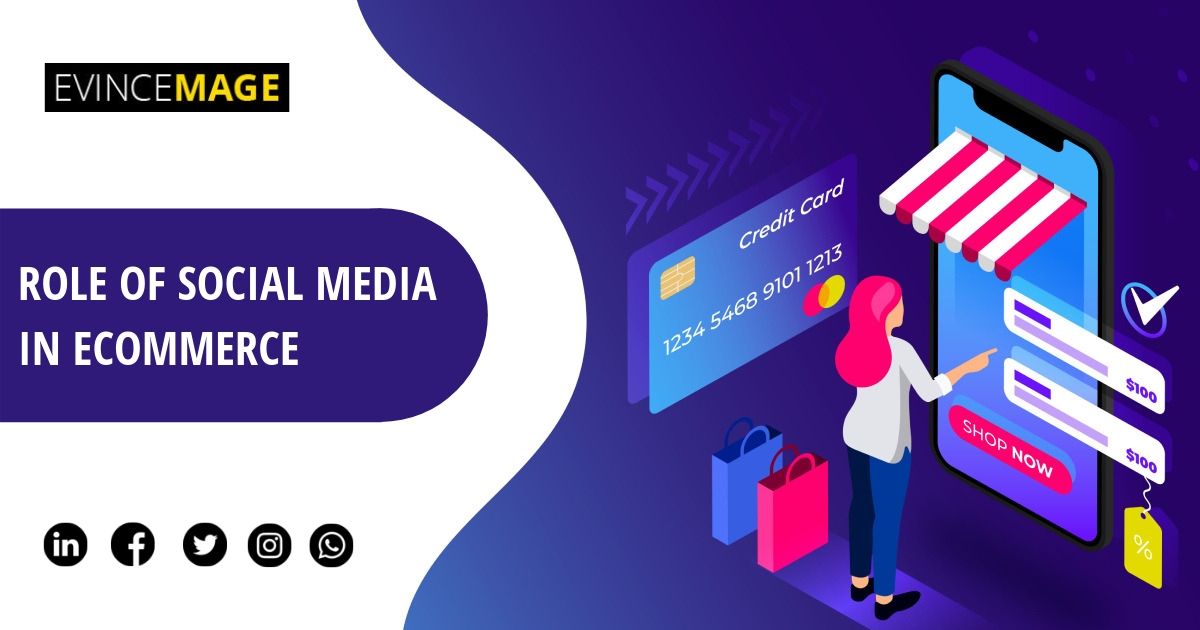 Sailing through the waves of speculations and analysis, ecommerce has turned out profitable, victorious and highly promising for investors and the global market. Apart from direct sales, there is a distinct world of opportunities called social media ecommerce which is pumping up for upcoming milestones. According to 99firms.com,  in the year 2019, the net global retail ecommerce sales are speculated to reach a whopping US$3.45 trillion. The number itself says so many stories and it accounts for 13.7% of global retail sales for the respective year. When the stakes of ecommerce are as high as they can be, social media is turning out to be a potential catalyst.

Social media and eCommerce: How are they relate & differentiate?
Social media and ecommerce are very closely related. Both the giants of the 21st-century are different in kind of information consumed through mobile phones, tablets, etc. While social media content can have various purposes, ecommerce is purely business driven; agenda remains to sell as many products as possible.

Social media and ecommerce are like two wagons of digital sales which are extremely important for the overall commerce. In turn, the trend is vigorously changing in the present times. There is a huge difference in how the world shops and to want to experience what's on offer. More importantly, the overlapping audience of ecommerce and social media forms the biggest link of the relation between the two. It is quite obvious that a smartphone or tablet user, whether belonging to the millennial generation or elder is most likely to access ecommerce if they are a part of any social media platform.

How do Social Media  eCommerce boost each other?
The answer to this question is handpicked from the fact that social media and ecommerce have an exhaustively overlapping audience. Thus, the target group of one becomes a softer target for the other. It becomes a complementary relationship between ecommerce and social media because social media becomes an easier medium. It easily showcases products of ecommerce, and at the same time, products mostly bought from ecommerce stores are flaunted over social media. It increases traffic and helps you gain attention through hashtags and numerous other possibilities of social media optimization.

Tested actionable Tips for Social Media eCommerce

Seamless login for ecommerce stores
Over 73% of marketers believe that social media is highly effective and has a fair sales conversion. With over 3.2 billion social media users, your ecommerce store is most likely to publicize products in a large section of users. Once your product draws precious attention of social media users, then comes a break or make situation. Once they tap on your product, it takes them to the ecommerce store. For buying the product, they are required to log in and that requires a form to be filled.

Considering people who naturally look for richer customer experience, filling a form may be a reason to bounce off from the product as well as the store. So, throwing up easy options to log in through their social media credentials exponentially increases your chances of converting the lead to sales.The Social Login Magento 2 Extension is surely the best option to allow users to login through various social media platforms to ease the login process.

Social Feed Integration: Let your online shopping store display social feeds
If you have an ecommerce store, social media optimization and management becomes a huge task. Because it is highly beneficial for business, it is important to update social media consistently with your ecommerce store. There is surely a dynamicity of an ecommerce store with numerous new products bumping in every day and others getting outdated. In such a scenario, keeping your social media handles and the ecommerce store integrated is the crux of finding immense success and outbound growth on your ecommerce store.Nowadays, rich and consistently improving customer experience is highly valuable for millennial generation customers.

You can't always expect them to log in to your store and look for the newest material. Rather, they expect you to throw eye-catching stuff right on their social media feeds. For Magento 2 eCommerce stores, the Social Feed Magento 2 Extension can be used to seamlessly integrate social media and ecommerce store with the help of a simple configuration that works superbly in the long run.

Hassle-free connectivity to the admin via WhatsApp
Whenever you see products on social media platforms, it is a common sight to find loads of queries, doubts, and curiosities. They are all parked up in the comment section. This is an acute bottleneck which ecommerce store owners are generally not able to handle. Usually, products are largely available on social media in the form of posts (sometimes, stories), but the queries and questions raised in return are left unanswered.

It becomes a potential reason for the bounce off and that disinterests customers as they don't find themselves warmly welcomed. There is nobody to attend in real-time. On an ecommerce store admin's part, it is almost impossible to entertain so many doubts and queries about an array of products in real-time.

The WhatsApp Contact Magento 2 Extension is the best fit to handle this challenge in real-time.

WhatsApp is one of the highly trafficking crossroads of social media and it is important to cater to all WhatsApp users; while you look to build a customer base for your ecommerce store.The WhatsApp Product Share Magento 2 Extension has numerous great advantages but the most important one is seamless ability to interact and throw up products across the contacts.

MOST IMPORTANT: Product Search Related Suggestions
eCommerce is all about aggressively interacting with your customers and converting those leads into sales. For the same, suggesting your priced customers with the most relatable products as per the search history is a great idea.Favoring the upselling & cross-selling, the Auto-Related Magento 2 Extension provides a range of parameters to showcase the related products to the customer to increase the average order value.

Conclusion 
eCommerce is a burning opportunity which retail businesses are looking to encash over the years. The same is expected to carry on in the near future. With the increasingly crucial role of social media and ecommerce for the digital media, the millennial generation is looking for better options and improved customer experiences for whatever they buy. The fantastic duo of social media and ecommerce is vigorously maturing on the lines of better functionalities and large possibilities with higher profits. Alongside, the retail business is not the only one benefited; ecommerce development companies are exploring the opportunity where people are eyeing more and more ecommerce stores.

The fantastic combo of social media and ecommerce are growing at a mammoth rate. But the driver seat is still occupied by the ecommerce and web development companies which are looking for leaner, meaner and more stable practices to build better products extensions and overall ecommerce stores. A huge bag of business figures and larger market reach of social media is helping ecommerce spread like a burning fire and compete with the likes of conventional supply chain systems. It is surely forcing all major retail companies to mend their business models to accommodate online sales; thus, lending huge gravity to ecommerce in the coming times.