Building Up The Best eCommerce Customer Service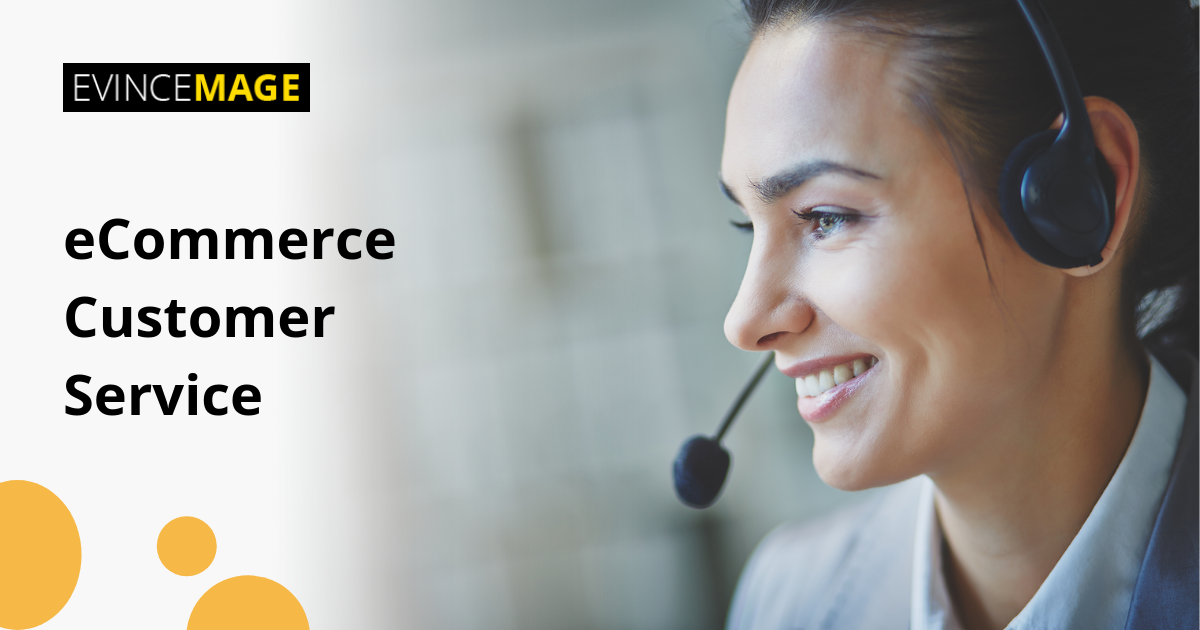 In this era of the internet, where every possible thing is available online, marking your position as the best in the business is quite a daunting task. One of the best ways to top the competition is by developing and maintaining a strong relationship with your customers. Providing the best eCommerce customer services not only increases your business reputation, but can also help in retaining the old customers as well as in gaining new customers.

Want to build the kind of ecommerce customer service that benefits your ecommerce business? Make sure that you read till the end and do let us know if we miss out on something.

When it comes to providing the best ecommerce customer service, customer relationship management plays a very important role. Customer relationship management (also known as CRM), is all about keeping the customers satisfied. The principle is very simple. If you keep your customers happy they will stay beside you loyally along with advocating your products to other people. This is the reason why business and customer relationship management go hand in hand when it comes to the successful growth in an eCommerce business.

Now a question arises.

How bad could it get if customer services are not provided efficiently?
Well, if you are an eCommerce business owner, you surely don't want to risk it doing that. Because as much as the positive reviews from your customers can help your business grow, the negative reviews can be hard to overcome and can also lead to unbearable losses in the business.

Here are some of the problems that might arise due to poor ecommerce customer services.

Damaged Reputation
Building a perfect reputation can take several years while destroying it can take only several minutes. Especially with the internet, you can't risk taking a hit on your reputation. Consumers having bad experiences with customer services not only leave negative feedback, but they also lash out those critical reviews on their social media and share it with their friends and families. According to a survey by new voice media, following a negative customer interaction, 58% of Americans would never use that company again.

Apart from this, there can be a drastic fall in your overall sales if there is a decrease in word-of-mouth marketing, which is inarguably the most valuable marketing for an eCommerce business.
Customer Defection
Customer Defection happens when you lose your potential customers. In today's market where there is a lot of competition in every business, it becomes very easy for customers to switch their brand in case of bad customer service.  This not only leads to a decrease in sales but you also lose the word-of-mouth marketing which is only provided by satisfied & happy customers. And unfortunately, unsatisfied customers often have a message that is way far-reaching than that of the satisfied ones.

No New Customers
With the decrease in word-of-mouth marketing, joined by the negative reviews showing around the websites and social media platforms, ultimately results in the loss of new customers.

Starting from the website to the business's social media pages, a dissatisfied customer will leave negative feedback/reviews on every platform possible. Due to this, when a new potential consumer visits the website or social media profiles, he would think twice before doing business with you due to the negative influence.

Before buying services from a new business, customers tend to check up-on the reviews and feedback from the people as well as from social networking websites. And so if your business is not providing good customer services, you are ruining your business growth by giving your competitors a chance to attract new customers.

Employee Retention Becomes Hard
Providing bad customer services not only affects your customers but it has an impact on your employees too. Employees are the first ones to know when the clients or customers are unsatisfied with the business. And we all know that dealing with unsatisfied customers is the hardest thing to do. This makes the working environment stressful for them and hence they start looking for better opportunities elsewhere. This results in losing many best employees and hence increasing the budget needed to recruit, hire and train new employees.

The only solution to avoid these cases is by staying in touch with your customers. You should be available everywhere where your potential customers tend to be active. From social media platforms to inquiry forms and WhatsApp, your customers should have a medium to contact you without any barriers.

Having a seamless interaction with your customers is one of the best ways of knowing your customer's needs and issues. This means that your customers should be able to address their inquiries or problems to you in a short & simple process.

Let's take an example of a widely used eCommerce platform, Magento. Magento is capable to enhance it's ability with the use of extensions.

For reference, consider the Product Inquiry Magento 2 Extension.
This extension provides a one-click Magento Inquiry form that allows guest users to submit product inquiries. This extension also allows businesses to can track past inquires and filter them accordingly.

Clearly, the extension provides a medium to connect directly to the customer support team from the product description page.

Another way of maintaining interaction with customers is by providing real-time communication on popular chat apps. With this, the customer can instantly get in direct contact with the businesses. Along with that, businesses can provide customized responses and hence, increasing the trust factor in customers.

Here, let's consider WhatsApp Contact Magento 2 Extension.

WhatsApp is a very popular chat app having an estimated 68 million users alone in the United States (as per the report of statista). This WhatsApp Extension not only allows your Magento store visitors to communicate via WhatsApp but it is also easy for businesses to enable and disable this extension.

By allowing your consumers to access your customer services from numerous platforms, you are making it easy for them to rely on your services. This makes your customers feel that you care about them and hence developing a long-term relationship.

Here are a few more reasons why ecommerce customer service is so important.

It Sets You Apart From Your Competitors
What makes you different from your competitors? Apart from a slight variation in products and services, customer service is what can help you set your business apart from the competitors. By analyzing the customer services provided by your competitors, you can find and fill up the loopholes and come up with better customer service, creating a uniqueness about your business.

Customer Retention
Maintaining your potential customers is way less expensive than getting new ones. Customer retention not only helps your business with repeated sales but it also creates a personal connection with your potential customers which helps in building up your brand reputation.
Apart from that, word-of-mouth advertising also comes into play here. This can lead satisfied customers to share their experiences with others over the wide range of mediums.

Improves your working environment
Providing good customer services can also boost the morale of your employees. The better the working environment, the more dedicatedly the employees will work. More positive reviews indeed reduce the stress level among employees which essentially increases the productivity of employees.

In this way they feel more connected with the values and principles of your business, increasing the overall productivity.

Conclusion
To wind up with a bonus tip, always put the needs of your customers first rather than putting your products and services ahead which in turn will help your eCommerce business reach new levels of success.

We hope that along with understanding how important is customer service, all your concerns & queries related to providing the best of ecommerce customer services were covered up here. But if you still have any queries left, ask your questions in the comment section below and we will get back to you as soon as possible.