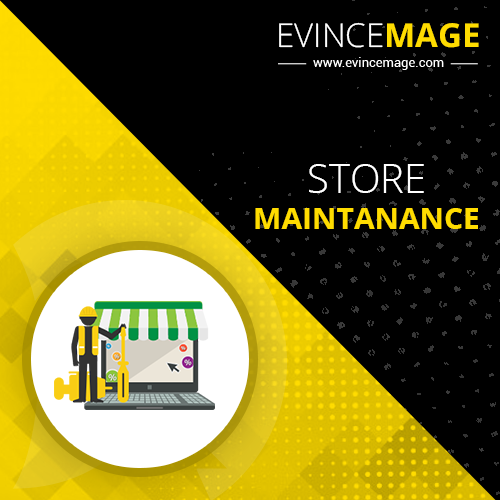 Community: 1.7, 1.8, 1.8.1, 1.9
This Extension allows developers an easy way to lock out customers, while they maintain their stores.
Keeps your website under maintenance mode for any reason technical or other
Except admin no one else can access site when it is on maintenance mode
Admin can able use all Magento functions during maintenance operations
Admin can specify the IPs that can access the site while it being under maintenance
Message is customizable (Global or each store view)
You can also displays countdown timer on website
Easy to customize
Easy to install, easy to upgrade
Multi-Store Supported
100% Open Source
Includes a User Guide
Support all Magento version like 1.6, 1.7, 1.8 and the latest version
Overview:
Store Maintenance extension allows you to give developers/administrators an easy way to lock out customers, while they maintain their stores. The Evince Store Maintenance Extension helps online users to put their online store in maintenance mode for specified time period where users can configure it from backend. A custom html page can be defined in the backend, which is displayed to all customers, while the store is in maintenance mode. This allow administrators to switch off any store view during maintenance operation. IPs can be white listed from within the backend, so chosen accounts can view the store frontend while in maintenance mode, without having to have administrator access.
Support: More info contact us on
Version 2.0.0
-
June 18, 2018
– Major Update Release
Version 1.0.0
-
May 04, 2015
– First Preview Release
Any question?
Our goal is to find customers who believe in what we believe and work together so that we can all succeed.
We are not interested in sitting across the table from each other just in pursuit of a sweeter deal.