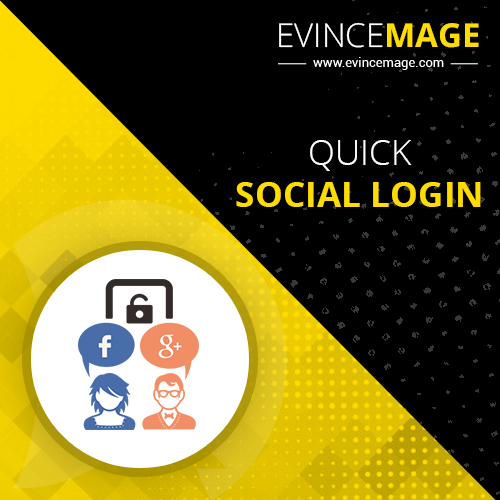 Community: 1.7, 1.8, 1.8.1, 1.9
Quick Social Login allows Users to Login with their Social accounts to connect to the website.
Can select one among up to 2 types of social accounts to log in
If Users already signed in their social account, System will automatically use the information from their social account to log in
Just need to enter their username and password to log in. No other information is required
A new password link is sent to User's email address to use as a separate account for the site after they sign in by social accounts
Can choose to register a new account as normal
Overview:
Quick Social Login decreases the resistance for users face when attempting to register on the website by allowing them to log in with their existing social accounts, including Facebook and Google. This excludes the need to create another username and password using register with the site.
Why choose it?:
A lot of information required when creating a new account may discourage Users from connecting to your website. Why don't you capable them to Login by their social accounts? A user wants Social Login, integrate with the Quick Login box and appear in the login form! The Quick Social Login extension offers these features.
Features For Admin :-
Manually disable the jQuery of extension if it will conflict with other jQuery on your site
Manual Configuration for displaying either one or more at front end side
Others -
Quick Social Login is 100% open-source
Unlimited Magento installations. (No license key required)
Easy to install and configure
User-friendly interface
Unique Design
Manual Guide for Configure Facebook and Google account with this extension
It is compatible with all Magento versions from 1.7.0.0, 1.8.0.0, or latest 1.9.0.1
Support: More info contact us on
Version 1.0.0
-
Mar 26, 2015
– First Preview Release
Version 1.0.1
-
Jun 27, 2015
– Updated Release
General Questions

How can I purchase this Extension?

You need to place an order for any extension then go to My account in My order section, you can download it.
Any question?
Our goal is to find customers who believe in what we believe and work together so that we can all succeed.
We are not interested in sitting across the table from each other just in pursuit of a sweeter deal.