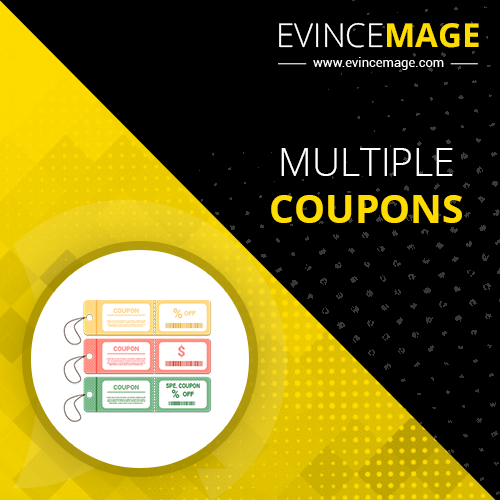 Community: 1.7, 1.8, 1.8.1, 1.9
This extension will allow you to generate multiple coupons within a price rule, and will also allow users to use multiple coupons at once.
Allow your customers to use multiple coupons for one order and benefit
100% open source
Easy installation
Overview:
Evince Multi Coupons will help to the customer to apply multiple coupons on the same time. By default Magento does not give the functionality to apply multiple coupons at one time. Make it easy to use discounts to build great relations with customers.
Features For Admin :
generate thousands of coupons per shopping cart price rule literally within seconds
Ability to edit and delete each coupon code
Apply rules for each coupon code
One of the features that has been requested by various Magento users is the ability to generate a set of unique coupon codes for a single "shopping cart promotion"
Installation is quite simple let us know if you find any difficulty or need our expert assistance.
Support: More info contact us on
Version 2.0.0
-
May 22, 2018
– Major Update Release
Version 1.0.0
-
April 02, 2014
– First preview release
Any question?
Our goal is to find customers who believe in what we believe and work together so that we can all succeed.
We are not interested in sitting across the table from each other just in pursuit of a sweeter deal.