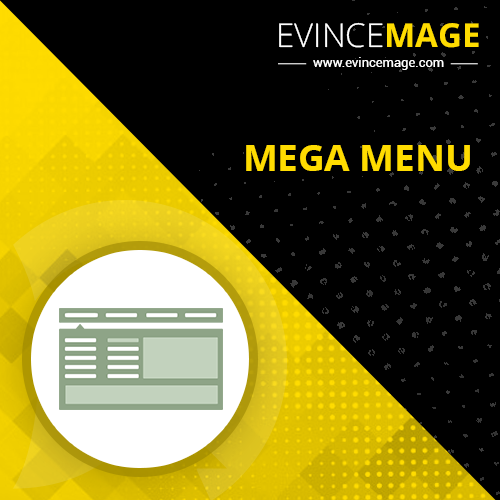 Community: 1.7, 1.8, 1.8.1, 1.9
Mega Menu helps organize your categories in the most excellent way.
Make It Easier To Navigate Your Site
Dynamically getting categories from catalog and display in Navigation
Easily being targeted and styled via css
Easy to customize
Easy to install, easy to upgrade
Multi-Store Supported
100% Open Source
Includes a User Guide
Quickly and easily navigating in a website.
Showing featured products or promotional images within the menu.
Easily Configure Menu Content and Style to fit your website theme and display of content
Able to arrange the position of Menu items
When Customers hover over a Menu item, a list of your products will be displayed
Customize the style of menu: width, menu color, icon
Easily select Main category of menu's item on a user-friendly interface
Easily add, delete and edit menu items
Support all Magento version like 1.6, 1.7, 1.8 and the latest version
Overview:
If you are seeking a way to improve usability and navigation of your online stores, Mega Menu extension is exactly what you need. It helps organize your categories in the most excellent way. Your customers access categories by hovering over the menu. It is very important that the menu should involve maximum of information that is needed by your Customers. If you want to improve your eCommerce site usability and navigation with a more professional menu display, Mega Menu extension is exactly what you need. Instead of the traditional menu display with just one column, you can organize your product into categories and present them all in only one dropdown multi-column menu. Thus, the extension allows your shoppers to navigate quickly and easily to your website. Mega Menu allows you to add sidebar and featured products or promotional image. You can also add contact form banner in menu.
Support: More info contact us on
Version 2.0.0
-
March 30, 2018
– Major Update Release
Version 1.0.0
-
April 21, 2015
– First Preview Release
Any question?
Our goal is to find customers who believe in what we believe and work together so that we can all succeed.
We are not interested in sitting across the table from each other just in pursuit of a sweeter deal.