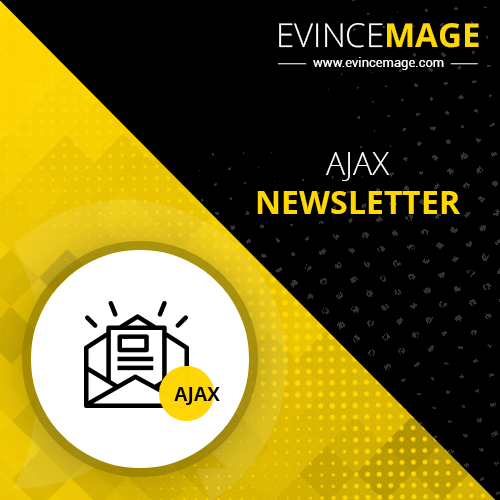 AJAX Newsletter Magento 2 Extension
Provide hassle-free experience to the visitors for subscribing to the newsletter without loading the web page.
AJAX powered newsletter subscription
Success/failure message
Easy to Install and Configure
Our Magento 2 AJAX newsletter subscription extension allows users to successfully submit their email for subscribing the newsletter. An exclusive feature of AJAX Magento 2 newsletter extension is that it facilitates the entire process by AJAX technologies.
AJAX powered newsletter subscription
The AJAX newsletter Magento 2 extension enables the visitors to subscribe to an email newsletter by just providing the email and hitting the "Subscribe" button provided in the Magento newsletter form. Our Magento 2 AJAX Newsletter extension is powered with AJAX technologies to complete the task.
The advantage of using AJAX technologies is that it prevents the loading of the entire page. This significantly reduces the server load over time.
Success/failure message
After the user clicks "Subscribe," AJAX Newsletter in Magento 2 extension provides a confirmation notification. Based on the success/ failure of the request, the confirmation will be provided to the user.
Even the confirmation message is provided by AJAX.
Easy to Install and Configure
The admin can easily install and configure AJAX Newsletter Magento 2 extension. The admin just needs to "Enable" the extension form the "Configuration" section of stores. This is all to configure the extension.

For more details contact us at [email protected]
Version 2.0.0
-
July. 09, 2018
– First Preview Release
Any question?
Our goal is to find customers who believe in what we believe and work together so that we can all succeed.
We are not interested in sitting across the table from each other just in pursuit of a sweeter deal.